18. Sinister (2012)
Following an ill-advised foray into sci-fi with a pointless remake of The Day the Earth Stood Still, director Scott Derrickson found himself back on familiar ground with this 2012 mini-classic, which Derrickson co-scripted with C. Robert Cargill. The film follows a true crime writer named Ellison Oswalt (Ethan Hawke), who moves his family into a house where the previous occupants were brutally murdered. Hoping to write a book about the case, Oswalt discovers a box of home movies in the attic that makes him realize he's stumbled into something far more inexplicable and dangerous than he could have imagined.
From the opening scene—a "home movie" of the family who lived in the house beforehand being hanged en masse—Derrickson sets a tone of suffocating dread. Oswalt's viewing of the other film reels he discovers along the way is also a clever integration of the "found footage" subgenre into an otherwise traditional narrative. The movie is genuinely unnerving for most of its running time: Derrickson sustains the mood effectively too, although he goes to the jump scare well probably a bit too much. In the end, however, a string of frightening sequences, an original new menace, and Hawke's effective portrayal of a desperate, increasingly frantic family man help Sinister leave its mark. – Don Kaye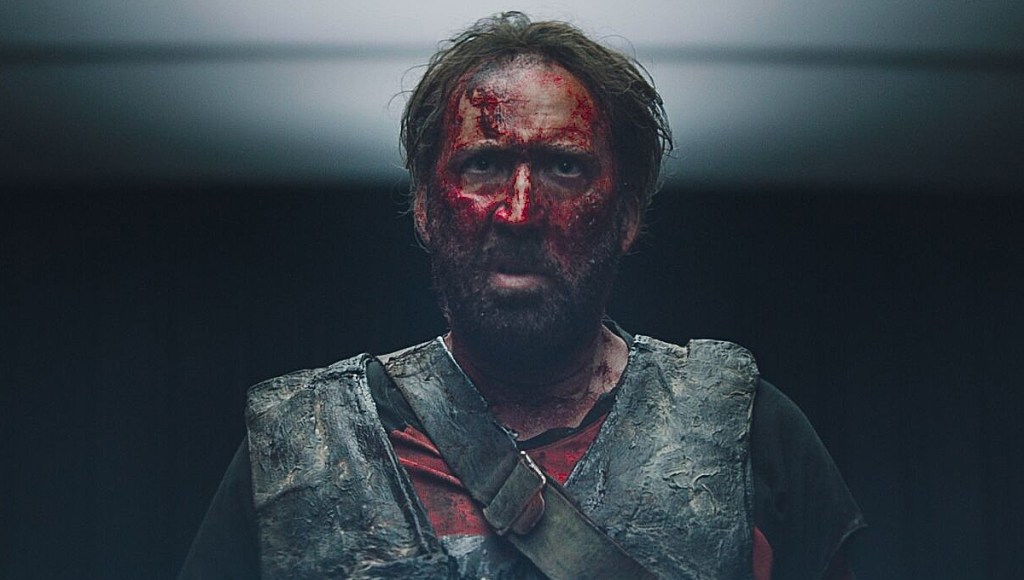 17. Mandy (2018)
Here we are in the latter days of Nicolas Cage's acting career where one of the most prolific actors of a generation has become even more prolific, appearing in an apparently unending procession of bizarre genre movies. And perhaps none is more bizarre, and unapologetically psychedelic and colorful, than Panos Cosmatos' 2018 masterpiece, Mandy. While some folks may immediately zero in on that one scene where Cage, clad in tighty-whities, chugs a handle of vodka and alternately rages and weeps, Mandy as a film, and Cage's performance in it, are far more than a novelty or curiosity.
After all, Cage's character Red has good reason to behave that way, having just witnessed unimaginable horrors inflicted on a loved one at the hand of an apparently satanic gang of bikers, making this a heartbreaking moment rather than a gonzo one. And then there's the gallons of LSD that characters appear to consume throughout the movie, whose lysergic haze leaks out onto the film itself, bringing with it gorgeous colors that only make the nonstop, brutality and ever more disturbing acts of violence all the more unsettling.
Cage's haunted Red makes for the actor's best performance in over a decade while Cosmatos evokes heavy metal and prog rock album covers, vintage Dungeons & Dragons Monster Manual art, and other vivid horrors with ease. Mandy is not for the faint of heart, but if you're willing to take that ride, you'll be rewarded.  – Mike Cecchini
16. Black Swan (2010)
One of the few movies on this list to win an acting Oscar, Black Swan was an "elevated horror" film before that term became a meaningless buzzword. With this picture, director Darren Aronofsky not so subtly remakes Repulsion (1965) for a modern sensibility. He also creates a fascinating companion piece to his previous movie, The Wrestler (2008), by contrasting the self-destruction demanded by all art forms, high and low.
Denial of responsibility!
News Leaflets is an automatic aggregator of the all world's media. In each content, the hyperlink to the primary source is specified. All trademarks belong to their rightful owners, all materials to their authors. If you are the owner of the content and do not want us to publish your materials, please contact us by email –
[email protected]
. The content will be deleted within 24 hours.