Brazil slumped to their fourth defeat of the year on Thursday. Luis Díaz scored both goals in a 2-1 win for Colombia as his father watched from the stands, a few days after being released by kidnappers. It was a beautiful night for Colombia and the Díaz family, but a difficult one for Brazil and Fernando Diniz.
Brazil's form has been mocked by Ibis, the self-proclaimed "worst team in the world". The small club from the north-east of Brazil made their name by losing matches but, after a recent upturn in form, they joked: "We have more victories in 2023 than the Seleção."
The defeat in Colombia also made unwanted history – after losing 2-0 in Uruguay last month, they have now lost back-to-back World Cup qualifiers for the first time. And they could only draw with Venezuela in their previous game. Yet, don't look to stand-in coach Diniz – still high on leading Fluminense to a historic triumph over Boca Juniors in the Copa Libertadores final – to throw a pity party or get his feathers ruffled by being the architect of such a downturn. He says "looking only at the result" doesn't "interest" him.
So, what does interest Diniz? What curious game is he playing? Essentially, Diniz wants to bring back the "essence" of Brazilian football to the Seleção. When the country's football association hired him, they knew exactly what they were doing. Diniz's playing style is highly unorthodox: he takes the chaos of Brazilian street football and expands it into an 11-a-side version at the highest level of the sport, where advanced tactical systems reign supreme.
Throughout Diniz's managerial career, his ideas have been dismissed as fantasy and even madness. How could a game based so heavily on player-centred improvisation – a sort of free-jazz football – possibly compete against the meticulous orchestration of the world's elite tactical coaches? Yet Diniz has persisted and Fluminense's recent high-profile victories show his philosophy can win big when it really matters.
This is why Diniz feels empowered enough to say he is not entirely interested in results. Despite Brazil's defeats, they will still qualify from the group – they only have to finish in the top six of South America's 10-team qualifying group. At this point, Diniz's remit seems more rooted in aesthetics than results – a re-imagining of what it means to play in an authentically "Brazilian" way.
It's not unusual to hear football aficionados wax lyrical about how the game connects with people in mysterious and profound ways that go far beyond the mere digits of the scoreline. Diniz's appointment acts out this conviction. As Globo journalist Jessica Cescon put it during the last international break: "Diniz's mission is not to win."
In a results-obsessed country like Brazil, though, it is unthinkable talk for a manager at any given time, never mind when eternal rivals Argentina are up next. Respected pundit Walter Casagrande fears the worst, writing in his UOL column that the "arrogant and stubborn" Diniz is "completely lost". Casagrande says Brazil could face the "biggest embarrassment in their history" when Argentina visit the Maracanã – worse even than their 7-1 destruction by Germany at the World Cup in 2014.
Diniz has, however, admitted that he wants to "correct the defensive aspects" of his team. Colombia had 23 shots, 18 of which were inside the area, in Barranquilla. Brazil's full-backs, Renan Lodi and Emerson Royal, did not prevent crosses from coming into the box and their centre-backs, Marquinhos and Gabriel Magalhães, did not deal with them.
"The team is evolving little by little," says Diniz. "We are going to correct the defensive aspects and the results will begin to appear. And, when they appear, they will be consistent." Diniz is right about the signs of improvement. In the opening stages against Colombia, there was some excellent link-up play. Gabriel Martinelli combined wonderfully with Vinicius Jr on his way to scoring his first goal for Brazil.

Diniz has clearly been impressed by Vinicius and Rodrygo's recent performances for Real Madrid, as he has picked them in a front two for Brazil – adopting the approach used by Carlo Ancelotti, his rumoured successor. Vinicius went off injured in the first half against Colombia and was replaced by João Pedro, the Brighton striker, with the struggling Richarlison left out of the squad entirely.
Rodrygo stood out in the No 10 shirt normally worn by Neymar, his fellow Santos academy graduate. The youngster was Brazil's main creator, playing his part in providing chances for Bruno Guimarães and Raphinha – who hit the post and had another effort tipped just past the woodwork. Bafflingly, Diniz took him off. The manager was criticised for the substitution but defended himself by saying Rodrygo was exhausted and pointing out that his exit had nothing to do with Díaz's goals.
It's likely Diniz will deploy the same "4-2-4 on paper" formation against Argentina, with Gabriel Jesus returning to spearhead the attack. Another option would be the prodigious Endrick. Brazil's latest wonderkid has been electric for Palmeiras and his explosive, associative style could be just what the misfiring attack needs. Whether Diniz thinks the 17-year old is ready for a competitive match against the world champions remains to be seen.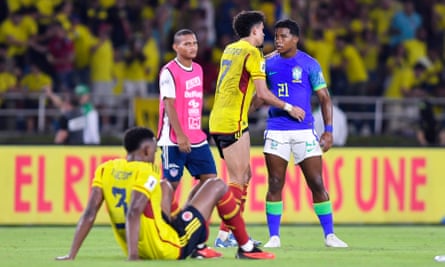 Wingers Raphinha and Martinelli are likely to keep their places, with André and Guimarães picked again – even though the midfield has been the biggest problem throughout Diniz's five games in charge. Dinizismo relies on the slower rhythms of close, short passing and the team moving upfield together, but Brazil became stretched and open against Colombia. As a result, the second half descended into a run-and-gun shootout, with Brazil wilting in the Barranquilla heat.
While André has experience of playing in Diniz's more languid style every week at Fluminense, Guimarães is struggling to toggle out of the crash-bang-wallop of Eddie Howe's all-action Newcastle. It's vital that this issue of speed is addressed. Diniz's style requires longer, more measured periods of ball possession to allow the connections between players time to develop.
In a curious twist, Argentina's success at the World Cup may have been the catalyst for Brazil to choose Diniz as manager. Back in 2019, Argentina's football association appointed Cesar Luis Menotti, the manager in charge when they won the World Cup in 1978, to lead the country's national teams. Menotti said his objective was to "recover the essence and genetics of Argentina's football".
"We have to be open, debate and give coaches the freedom to decide which tactical system to use based on the players available to them," explained Menotti. "Our footballers are what they are. We cannot play like Guardiola's Barcelona."
After losing to Saudi Arabia in their opening game at the World Cup, in which Lionel Scaloni deployed a rigid 4-2-4, Lionel Messi said the team had to "get back to the basics of who we are". As the tournament progressed, Argentina became more fluid. This allowed players to gather closer to Messi, creating the conditions where quick wall passes and pass-and-move exchanges could emerge.
This was what Menotti had alluded to – a playing style free from any pre-existing tactical blueprint that was instead born from the relationships between players. It was a return to the football they had played as children in the potrero – the communal spaces where young Argentinian footballers learn the game.
Argentina's spectacular rediscovery of their identity at the World Cup only served to highlight the absence of the Brazilian spirit that was perhaps embodied most poetically by the 1982 World Cup side. That magical team of Zico, Socrates and Falcão is remembered for its dazzling samba sway rather than ultimate victory on the scoreboard. This is a fact not lost on Diniz, a known admirer of the team who recently suggested that "what happens artistically remains in the memory".
Diniz is playing a long game but his opponents for this World Cup qualifier show what can be done. Argentina rediscovered their style with glorious consequences. Brazil's footballing rebirth is yet to spark into life.
Denial of responsibility!
News Leaflets is an automatic aggregator of the all world's media. In each content, the hyperlink to the primary source is specified. All trademarks belong to their rightful owners, all materials to their authors. If you are the owner of the content and do not want us to publish your materials, please contact us by email –
[email protected]
. The content will be deleted within 24 hours.