'Brian Cox can be frightening!': Peter Friedman on the thrill of playing Succession's Frank | Succession
New York-born character actor Peter Friedman, 74, made his name in theatre, where he was Tony award-nominated for Ragtime in 1998. His TV roles include The Affair and The Marvelous Mrs Maisel, while film credits include Single White Female, Safe, She Said and Synecdoche, New York. He currently plays Waystar Royco vice-chair Frank Vernon in hit HBO drama Succession, which is about to reach its feature-length finale.
How are you feeling about the Succession finale?
It was a golden era for us actors and everybody who worked on it. It was a good, good time and this last season has been wonderfully riveting, so we're leaving on a high.
Will you watch the episode when it airs?
Oh yeah. I want to see how the script emerges into a drama. We read it, shoot it, then somehow it all becomes a new version that's crackling. Getting to see what's in and what's out of the final cut is always fun. I expect we'll be texting one another.
What do you think the viewer reaction will be?
I'm fascinated to find out. I sometimes look at Reddit and, let me tell you, people are on the right track. The darts are all over the board but they've been narrowing it down to what's actually going to happen.
How have you handled all the secrecy around the series?
When you think of all those extras at Logan's funeral or Connor's wedding, it's amazing nothing leaked. Some fans online zoomed in on the order-of-service from the funeral – I think Sarah [Snook, who plays Shiv] had it in her hand – and it said "Ewan Roy" [Logan's brother]. They did indeed print up a bunch of decoys to put people off. I even kept his death secret from my wife until I inadvertently mentioned something funny that happened in Norway. She said: "Wait, is Logan dead?" When Harriet Walter [who plays Logan's ex-wife Lady Caroline] came in for the funeral episode, she saw all the black clothes and said: "Who died?" It had even been kept secret from her.
Who would you choose as Logan's successor?
I'm so enamoured by what Alexander Skarsgård is doing [as Lukas Matsson]. His acting is so beautiful – blithe and confident yet anxious – I'd go for him. As a viewer I'd say: "These kids aren't up to it." I think Frank wishes Kendall would quit and become a musician somewhere. Please, get out of here and go live a peaceful life! He just wants to see them happy, which probably isn't going to happen.
Frank is Kendall's godfather and an avuncular figure. What's it like working with Jeremy Strong?
We did an off-Broadway play together a few years ago – I played his dad, in fact – and I find him the sweetest guy. I'm always glad to shoot scenes with him. There's a natural warmth there.
Your character's become a cult hero. How much do you get recognised?
It depends on the day and what area of the city I'm in. There's a high recognition rate walking around the university areas and there's always more the day after it airs. But it's always swell. One guy shouted "Frank!" from a car last week. Usually, it's: "Aren't you the guy off Succession?"
Frank and Karl, played by David Rasche, have become a great double act…
Isn't Dave cool? I'm so impressed by what he does. We go way back. We were never up for the same parts – I was more Jewish in my youth, he was more Waspy – but we've been at the same parties for decades. There's history and chemistry there. He's a gregarious storyteller. I'm not but it really works.
They're often joined by Gerri. How is working with J Smith-Cameron?
Again, we've known each other for decades, so to finally work with her is a wonderful thing. I'm going to miss that. We're trying to make a martini date to catch up.
The Waystar exec team have been called the village elders, greybeards, boiled eggs…
Emperor penguins. Ancient grains. I even had Sir Talky of Fuckchester thrown at me. I loved that.
What did you make of the Frank character when you first got the role?
Before the pilot episode, I was like: "What's a COO?" For research, I found a real COO and we had a nice conversation for 45 minutes. Then, at the end of the pilot, I was fired as COO. What have I been since? Because Frank was in league with Kendall for a takeover, I think Logan was just keeping his enemies close. When the dust settles, I'm going to ask Jesse [Armstrong] exactly what I did in the company.
What's it like being repeatedly told to fuck off by Brian Cox?
He's frightening when he gets up into high dudgeon. I don't mean just acting frightening, I mean actually frightening. He can get there! But he's also the nicest guy in the world.
Roman Roy openly loathes Frank. What's it like being adversarial with Kieran Culkin?
As Frank, I'm offended sometimes, but as Peter, it's fun. Certain bits aren't scripted. After some two-line spat, Kieran will throw a champagne cork at me. I'm like: "Ow, fuck, that's not in any script." But it's perfect. Kieran has been so hot this season.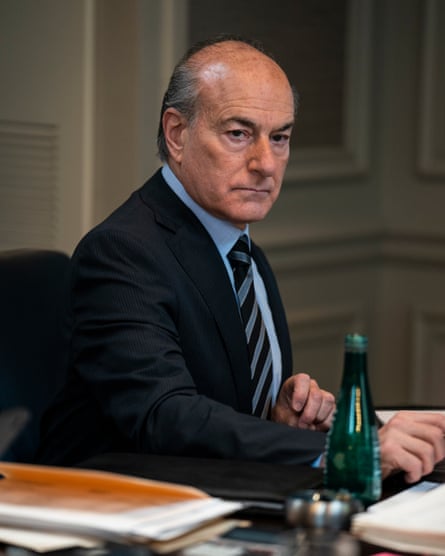 Frank's often been a Roy family punchbag, forever fired and rehired. Why does he stick around?
Exactly my question! If he's the only one we haven't seen commit heinous crimes, we can almost think that Frank might be a good person. So why is he with these sharks? Why doesn't he join a non-profit and spread good if he's so damn moral?
Did the yachts, mansions and private jets give you a taste for the high life?
No, I don't like responsibility. I'd be too busy worrying about how to keep up with paying for it all. I'm going to miss a payment, I know it, and the jet's gone! When we went to foreign countries, Fisher Stevens [who plays Hugo] was our maître d'. He's been everywhere, done everything and knows all the restaurants, so he'd get us together for dinner.
My favourite Frank line is when he called Kendall "the Calamari Cock Ring".
That's right! [laughs] I didn't know what that meant but it was funny. I guess it means a cock ring made of calamari.
Karl's buying a Greek island. What's Frank's retirement plan?
I've gotten so few clues from the writers. When they joked about him having a girlfriend in Italy who was seen giving a blow job to somebody else, was that just an office haze or for real? Sometimes I think the audience knows more about Frank than me.
Was your last day of shooting emotional?
More wistful, because it's been so good. Everybody's star has risen. There's been a degree of excellence that one should be wistful about, because I don't know how soon each of us will find it again.
Frank and Karl have been compared to Statler and Waldorf. Weren't you a Muppeteer in the late 70s?
Yes. I've done right hands for a lot of famous puppets. I never touched those guys but I can see the resemblance.
Weren't you also Mr Snuffleupagus on Sesame Street?
Only half of him. I was the back end, the business end, although you have the easier gig because you're not doing the mouth movements to Jerry Nelson's voiceover. It's sweaty work inside Snuffy but as a 28-year-old making $50 per shot, it was all worth it.
How do you relax when you're not working?
Over the past three years, I've got into silent movies – partly so I can watch them in bed and won't disturb my wife. I also read the classics I've never got around to. Right now, I'm on The Haunted Hotel by Wilkie Collins.
What's your next dream project?
Maybe something on stage. The first four decades of my career seemed extremely slow, with lots of unemployed time. The past 20 years have been a pleasant surprise. Being Frank was a wonderful experience, but it's important to shake it up a bit. To feel like you're fluid, greased up and ready to go. It's stupid but I'd love to do something interacting with puppets. With me on the outside this time. Less sweaty.
What will you miss most about Succession?
The overall excellence and lovely people. You know how Logan Roy says, "NRPI, no real people involved"? On Succession, it was NII, no idiots involved.
The final episode of Succession is on HBO in the US at 9pm on Sunday. In the UK, it is available on demand on Sky Atlantic and NowTV from 2am on Monday, and airs on Sky Atlantic at 9pm on M
Denial of responsibility!
News Leaflets is an automatic aggregator of the all world's media. In each content, the hyperlink to the primary source is specified. All trademarks belong to their rightful owners, all materials to their authors. If you are the owner of the content and do not want us to publish your materials, please contact us by email –
[email protected]
. The content will be deleted within 24 hours.