I've opened Pandora's box and I've realised it's filled with colourful trinkets and weird and wonderfully shaped décor that I didn't know I needed.
Hi, I'm Maria Thattil – and I'm a décor addict. Kidding, of course. However in recent months as I've renovated and furnished my home, I've discovered a whole new way of transforming my space that I didn't originally set out to do. 
See, my original inspiration lay in a grounding, calm aesthetic. Think neutral tones, earthy textures and trendy interiors.
So when I partnered with DOSSE Studio to design and decorate the space it sure did look like a modern Mediterranean Tuscan dream. Like I was plucked out of reality and injected right into one of my Pinterest inspiration boards.
READ MORE: The $10 cult Kmart Christmas buy shoppers are snapping up
So many of us have a vision for how we'd like to live and the space we'd live in; mine was bang on trend, beautiful… but a little beige. And in my pursuit of perfection, I felt like upon completion my place resembled a beautiful display house – but I don't want to live in a postcard, I want to live in a home. And so cue: the madness.
You can imagine my interior decorators' surprise when I told them that I wanted to pivot beyond perfection, yet they were so understanding.
When I bought my house, I told them I had an intuitive feeling that it was the house. As I stood on its balcony during the open house surveying the street, I had a secure knowing that I'd be doing it every morning with a coffee in hand. 
Now, I enjoy my morning coffee from that very balcony because the house ended up becoming my home, but somewhere in the design process I forgot the difference between the two. Reconnecting with that has become essential to my aesthetic ethos.
READ MORE: Body pillows that will gift you the sleep of your dreams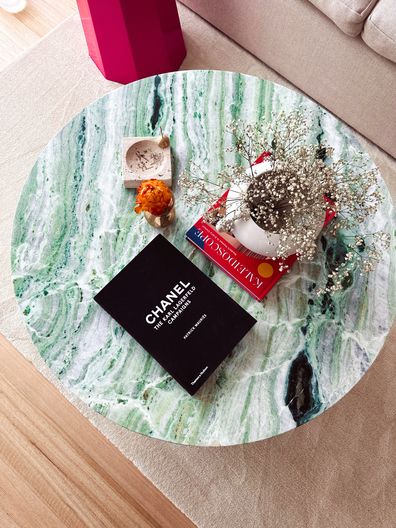 When I walk into the space, I want to smell, see and appreciate injections of colour and quirk that spark joy. A concept I learned when becoming proficient in the science of 'Marie Kondo-ing'. After all, the way we decorate our homes can significantly influence our mood, energy, and overall sense of contentment.
So cue my new ethos: dopamine décor.
A trend that's making waves in the interior design world and one that I think will stay, because its rooted in creating an environment that inspires positive emotions and happiness.
Dopamine décor is all about infusing your living space with colour and patterns in a way that elicits 'dopamine' – the feel-good neurotransmitter associated with pleasure and reward.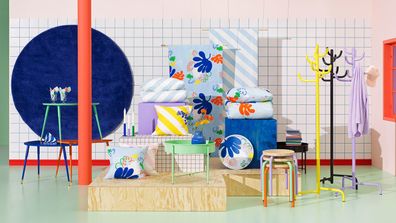 Ikea launches its 80th anniversary range
What sparked it for me? Moving away from beige perfection.
Cue: oblong shaped pendant lights and a pebble shaped mirror, perfectly imperfect in how they reflect natural shapes in nature.
An icy jade green coffee table adorned with pink coffee table books and whatever burst of floral vibrancy I've found at the market that week.
A giant painting in the dining room rich in colour but the main attraction? Its neon pink and orange reflective acrylic border.
And as we move upstairs, it gets cooler. Chrome shaped wall mounds are on their way and will adorn the wall near the stairs and to be frank, they look like a really beautiful alien sneezed everywhere and God I love it. Nearly as much as the provocative print hanging in the hall – the torso of a topless woman pulling up stockings and yes, I tell people it's me for a giggle.
READ MORE: How to get the Barbiecore look in your home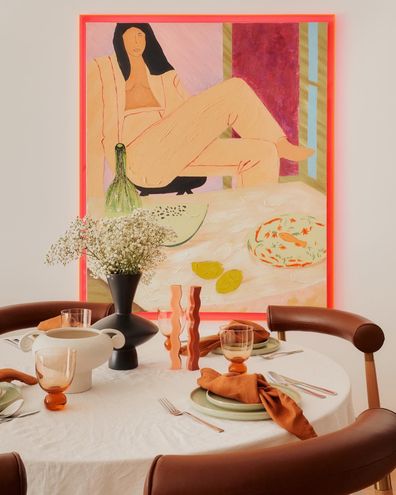 Speaking of provocative, the bright print of a woman's legs in cool green pants laying on a couch with a giant pillow that says 'F*CK ME' on it makes even less sense than my sneeze-like wall mounds but whatever, I like it. 
I'm going to wallpaper the bedroom, add blush sheers and I'm loving my wacky Dinosaur Design resin vases as perfect accents to the bathrooms. Importantly, all of it is worlds away from the minimalist, beige mood-board I started with… because all of it, is me.
And so for anyone looking to embrace dopamine décor, this is what I'd suggest. Pick a colour palette that works for you – if you can't commit to it in renovating the house, inject it via accent wallpaper, furniture or accessories. Explore patterns, embrace art that moves you, don't be shy of textures you enjoy, add flora and greenery and infuse plenty of personal touches.
READ MORE: Eight ways to update your bathroom without an expensive reno
Remember, the beauty of dopamine décor is about more than aesthetics and perfectionism, it's about creating a space that reflects your personality, inspires good vibes and profoundly influences your psychology.
In a world that can be high stress, fast paced and sometimes guilty of robbing us of presence, create opportunities for presence in your home.
Our surroundings are our refuge from the chaos of the outside world and impact our wellbeing immensely, don't shy away from lived in details that tell a story of you – the person who lives and loves within it's walls.
A house isn't just a home, it's a reflection of your big, bright life. Embrace it because it's your oasis to celebrate life and YOU.
Denial of responsibility!
News Leaflets is an automatic aggregator of the all world's media. In each content, the hyperlink to the primary source is specified. All trademarks belong to their rightful owners, all materials to their authors. If you are the owner of the content and do not want us to publish your materials, please contact us by email –
[email protected]
. The content will be deleted within 24 hours.