Key events
36 mins: A reminder that the record score in the World Cup is 142-0 when Australia defeated Namibia in 2003.
Namibia have a lineout at the five-metre mark and they literally throw it away. Poor lads.
TRY! France 40-0 Namibia (Flament, 34)
Jelonch picks the ball up off the ground and runs into the space vacated by the Namibians, who had no one at the break down. He gets close to the line but allows Flament to do the honours. Ramos kicks.
32 mins: There is a little bit of a delay while Gaoseb replaces his contact lens. At least it allowed the Namibians to rehydrate.
Penaud dabs a kick down the line but Greyling reads the danger and collects the bounces ball. It is good work but he is forced to run it straight out of play.
France do their best to claim a try. Jelonch is the man that touches down but it comes after a Mauvaka knock-on. TMO rightly rules it out.
30 mins: Namibia have a bit of a go and they show some promise but a knock-on curtails their progress. The Namibians look tired. France's scrum fails and Retief collects the ball at the back. He makes a sprint for the line and gets oh so close but is halted by the French defence.
Jeff Sax emails: "I don't see the point of these games with total mismatched teams.
"They are not entertaining or sportsmanlike and I fail to see what the losing side gain."
Probably a sign funds need to be distributed more fairly around world rugby.
28 mins: I always wonder how those who suffer these absolute thrashings in World Cups remember the occasion. It is naturally the pinnacle of their careers but cannot compete with the planet's finest.
TRY! France 33-0 Namibia (Danty, 26)
The Namibia scrum cannot cope and collapses. France kick for a lineout at the five-metre mark. It is a successful one as Dupont receives the ball and slings it to Danty to power over. Ramos does the rest.
24 mins: I am beginning to fear every update I do will be of a try … France are completely dominant and chucking the ball gleefully as they look to stretch Namibia to create loads of gaps. A knock-on ends the latest France attack but there will be another in 3, 2, 1 …
TRY! France 26-0 Namibia (Penaud, 22)
France have a lineout in the corner and they use it quickly. A faux-maul begins, Fickou takes the ball from the back and gives it to Penaud to cross in the corner. Ramos nails the kick from out wide.
20 mins: The question is when the demoralising will kick in for Namibia. How long can they maintain a positive mindset against one of the world's best teams in front of a raucous home crowd?
TRY! France 19-0 Namibia (Ollivon, 18)
What a team try! France counter through Jalibert and Dupont who combine with some quick passing on the wing. The hands are rapid and Namibia cannot cope as Ollivon is given the chance to cross the line unopposed. No issue with the conversion.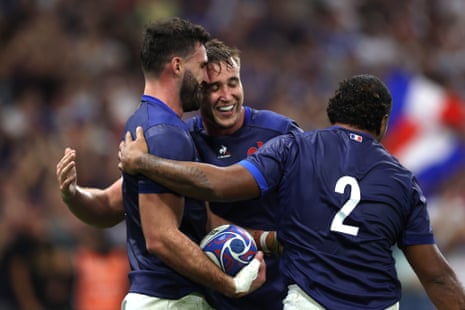 16 mins: Fickou tries to run the ball out from deep but Namibia are having none of it and push him into touch. France do, however, get the lineout on this occasion.
14 mins: Namibia's kicking is not the best. They might want to reconsider some of their concepts off the boot.
12 mins: Namibia try to throw the ball around but Van den Berg chucks the ball over everyone into touch. France take advantage from the lineout as Fickou bursts down the right wing but he is stopped before he can complete a try. The attack fizzles out in the end when France concede a penalty.
TRY! France 12-0 Namibia (Danty, 10)
A kick goes to the corner for Bielle-Biarrey to chase. He makes up the ground just in time and sends a pass into Danty to put the ball down. It is all very easy for France. Ramos adds the extras.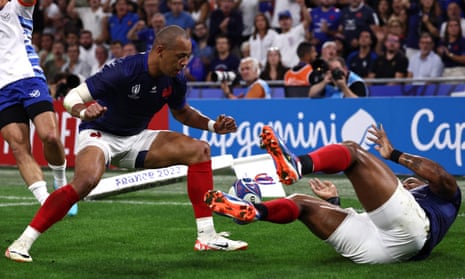 8 mins: Namibia are testing their kicking game but Loubser sends it beyond the in-goal area.
TRY! France 5-0 Namibia (Penaud, 6)
Namibia come in from the side and a penalty is awarded. France kick for the corner in the hope they can enjoy a better lineout. Mauvaka does better this time and the maul begins. The ball sent out to Dupont, who kicks towards the corner for Penaud to collect, he drops a shoulder and goes over the line. Ramos sends the kick wide from the touchline.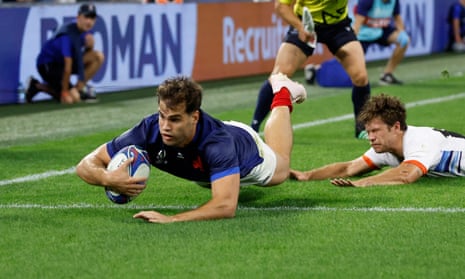 4 mins: France's first lineout does not go to plan either as they fail to deliver it straight.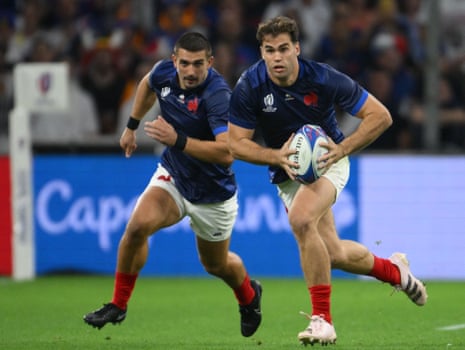 2 mins: Namibia have a lineout but a bit of a hash of it and France ensure the danger ends. Some good intent from the Namibians in the early stages. They have had most of the ball.
Here we go!
An idea from David Williams: "Contentious one but max team weight limits (freely chosen by position). Would make game more accessible and may help avoid many of infringement obsessions causing bunker such a headache."
Geoff Wignall suggests: "On your question of rule changes, I have no such suggestions: I'd be happy for a change of approach to refereeing the existing rules.
"Specifically, shorter advantages, especially for knock-ons (which were noticeable and refreshing in the Fiji – Australia match); and straight scrum feeds.
"Though of course, there'd be scarcely a hooker currently to be found who'd know what to do with a feed that needed actual hooking."
A very off night.
ITV going for some pure rules chat at the moment. Which rules would you like to seen changed in rugby?
Building Anglo-Romanian relations, like myself.
I love a party with a happy atmosphere.
France: Ramos; Penaud, Fickou, Danty, Bielle-Biarry; Jalibert, Dupont; Baille, Mauvaka, Atonio; Woki, Flament; Cros, Ollivon, Jelonch.
Replacements: Bourgarit, Wardi, Aldegheri, Taofifenua, Boudehent, Couilloud, Moefana, Jaminet.
Namibia: Van der Bergh; Mouton, Deysel, Burger, Greyling; Loubser, Theron; Sethie, Van der Westhuizen, Coetzee, Tjeriko, Ludick, Katjijeko, Retief, Gaoseb.
Replacements: Nortje, Benade, Shifuka, Van Lill, Hardwick, Blaauw, Izaacs, Rossouw.
If Namibia win, it would be one of the greatest upsets in World Cup history, arguably in any sport. I would like nothing more than to see Gerswin Mouton cross the line in the corner in the final minute to secure a triumphant one-point victory but there is absolutely no chance it is happening.
Tonight is all about how many points France will score and the answer is: an absolute bucketful. They were underwhelming against Uruguay, but Namibia are a few steps down from that and could be in for a tough night. But they good news is: they are playing in a World Cup, so they should take the enjoyment in this match where they can. If they manage to get a try, that would be a success.
Kick-off: 8pm BST
Denial of responsibility!
News Leaflets is an automatic aggregator of the all world's media. In each content, the hyperlink to the primary source is specified. All trademarks belong to their rightful owners, all materials to their authors. If you are the owner of the content and do not want us to publish your materials, please contact us by email –
[email protected]
. The content will be deleted within 24 hours.