Text messages at the Emergenices Act inquiry reveal Lametti also asked if Canadian Armed Forces would be available to move in on protesters
Article content
OTTAWA – Canada's Justice Minister David Lametti told his public safety counterpart that he "needed" to get the police to move on Freedom Convoy protesters, use the military "if necessary," and enquired with staff two days into the protests about using Emergencies Act.
Article content
Text messages sent by Lametti to either Public Safety Minister Marco Mendicino or his chief of staff Alex Steinhouse during last winter's convoy protests shed fascinating new light into how frustrated the justice minister was at the "occupation" and how strongly he wanted authorities to remove protesters.
Article content
The texts were released by Public Order Emergency Commission lawyers as Lametti testified publicly. The inquiry is mandated to determine if the federal government met the legal threshold when it invoked the exceptional powers of the Emergencies Act on Feb. 14.
Inquiry commissioner dismisses requests by Freedom Convoy lawyer for executive to testify

Feds 'screwed the pooch' over mandatory trucker vaccinations, Kenney texted to LeBlanc: inquiry
Article content
Two days after Freedom Convoy protesters first arrived in Ottawa on Jan. 28, Lametti asked Steinhouse if the government had a "contingency" for the trucks to be "removed" within the next two days.
"What normative authority do we have or is some order needed? EA?," he asked, referring to the Emergencies Act.
Lametti was asked by commission lawyer Gordon Cameron what he meant by that, noting that this was only the third day of protests "and your mind goes straight to the Emergencies Act."
"I was being prudent," Lametti explained. "I knew that we had to begin thinking about it, whether or not it was ever going to be an option."
The commission also saw another set of messages from Feb. 4, where a meeting among justice department officials to discuss the Emergencies Act was being discussed.
Article content
Lametti said those meetings weren't about invoking the act or even discussing, but about how it would work and what it could do.
"It was about preparing for the possibility not preparing for in any way for the introduction of the act."
Lametti was asked to explain one of the central issues of the inquiry, which is how the government decided that the convoy protests presented a threat to the security of Canada as defined under the CSIS act, despite CSIS stating it never found one. 
He said the Emergencies Act may refer to the CSIS definition, but it leaves the decision in the hands of the cabinet and they can interpret it more broadly. 
"While it is the same standard of the same magnitude, interpretation of that standard is being done according to a wider set of criteria by a very different set of people with a different goal in mind," he said.
Article content
"Given a different decision maker, given a broader set of inputs, the very same words will not have a wider meaning, but can have a wider area of interpretation."
In his role as attorney general, Lametti is also the government's chief lawyer. Previous witnesses have said there was a legal opinion that explained the government's broader interpretation of the Emergencies Act, but Lametti said he couldn't either confirm or deny if that was the case. 
He said he had to be absolute about protecting solicitor client privilege and refused to answer several questions with that justification in mind. 
"I would remind counsel this is a right that the Supreme Court of Canada has said is a quasi constitutional right. It is fundamental for good governance." 
Article content
Cameron also revealed a jarring message sent by Lametti to Mendicino from Feb. 2, where the justice minister and attorney general of Canada tells his counterpart he needs to make police, and the Canadian Armed Forces (CAF) "if necessary," move in on protesters.
"You need to get the police to move. And the CAF if necessary. Too many people are being seriously adversely impacted by what is an occupation. I am getting out as soon as I can," Lametti wrote.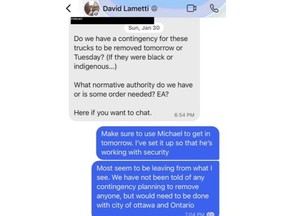 He then told Mendicino that people were looking at "us/you for leadership" and not unnamed "stupid people."
Mendicino then responded with what appears to be a joking response asking, "how many tanks are you asking for"?
"I reckon one will do!!," Lametti responded.
During his testimony, Lametti said that many of these exchanges were the result of "banter" between his "colleague and friend" Mendicino.
Article content
But Cameron asked Lametti if, as the "chief law officer of the Crown," he did not expect his "cabinet colleagues to place considerable weight on your view of the legal issues as it encountered the convoy?"
Lametti responded that in some of those cases, he was speaking "more as cabinet colleague than a minister" and that he was "not speaking as Attorney General."
Lametti was also shown texts with Mendicino where he called former Ottawa Police chief Peter Sloly "incompetent." He eventually told Sloly's lawyer he "walked that back" with the benefit of hindsight.
"I felt personally threatened," he said, describing how he was frustrated the protesters had become so entrenched in the city and his staff were being harassed.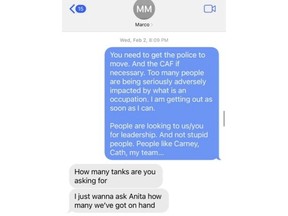 Watch the Emergencies Act inquiry live:

 https://www.youtube.com/watch?v=rBjKMcZFkjg
Denial of responsibility!
News Leaflets is an automatic aggregator of the all world's media. In each content, the hyperlink to the primary source is specified. All trademarks belong to their rightful owners, all materials to their authors. If you are the owner of the content and do not want us to publish your materials, please contact us by email –
[email protected]
. The content will be deleted within 24 hours.