Police and politicians across the country are pleading for changes to our broken justice system but the Trudeau Liberals won't act
Article content
Perp and release, that's our justice system now and it must change.
Article content
As we've all heard by now, one of the two charged with killing OPP Const. Greg Pierzchala was out on bail on charges of assaulting a police officer and illegal possession of a firearm.
Article content
Randall McKenzie also had a record that included armed robbery, among other convictions, but he was walking free this week when tragedy struck.
As OPP Commissioner Thomas Carrique pointed out Wednesday night, McKenzie had been banned for life from possessing a gun since 2018 and was out on bail for an alleged violent attack on a police officer a year ago.
"I'm outraged by the fact that McKenzie was out on bail and had the opportunity to take the life of an innocent officer," Carrique said in an emotional plea for changes.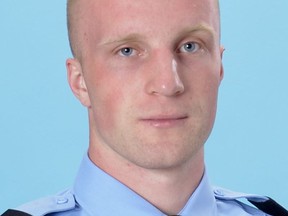 McKenzie didn't show up for a court appearance in September and a warrant was issued for his arrest. He wasn't arrested until this past Tuesday after Const. Pierzchala was already shot and killed, allegedly at McKenzie's hand.
Article content
"I know that there's a lot of interest ensuring to see that changes are made to ensure where possible, people who are charged with violent offences that are firearms related are not in those positions moving forward," Carrique said.
Carrique is not alone in calling for bail reform, Toronto's police chief recently did the same when speaking of a gun-smuggling bust. And in the wake of the murder of Const. Pierzchala, Ontario Premier Doug Ford once again added his voice to those calling for changes to the bail system for violent offenders.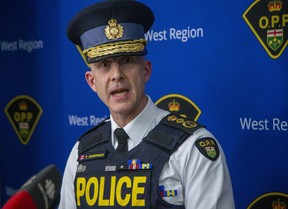 "Enough is enough. More must be done to fix a system that is far too often sacrificing the safety of our public and police officers instead of cracking down on the perpetrators who repeatedly commit these heinous crimes," Ford said Thursday.
Article content
Ford called for the federal government to take "real action against the violent criminals who continue to threaten the safety of our communities."
While I agree with Ford, it's unlikely to happen while the Trudeau Liberals are in power given their hug-a-thug mentality.
First off, on the issue of bail, the Trudeau Liberals passed Bill C-75 back in 2019 to make bail easier to get. Under that bill, judges and justices of the peace were instructed to follow the principle of restraint when considering bail.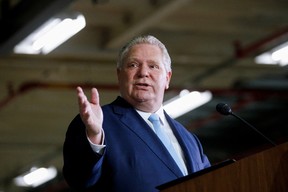 The bill reads in part that "a peace officer, justice or judge shall give primary consideration to the release of the accused at the earliest reasonable opportunity and on the least onerous conditions that are appropriate in the circumstances." The law also states that special consideration for release of Aboriginal accused must be given, which McKenzie — the accused in this case — was as a member of the Onondaga First Nations of the Six Nations of the Grand River.
Article content
The Trudeau Liberals also recently passed Bill C-5, which did away with several mandatory minimum sentences for gun crimes.
Here is the reality of our justice system after years of court-imposed decisions and politicians who put more weight on the rights and problems of the guilty than the victims. People are not punished for their crimes, they are too often let out early and repeat offenders are one of the biggest issues in the system.
We don't just need bail reform, we need sentencing reform, and we need to stop letting people out after they serve one-third of their sentences.
That's not going to happen under the Trudeau Liberals, they have shown their true colours. Their justice reforms have been all about the convicted, not the victims.
When people commit violent crimes, they need to be locked up for a long time, not because it is a deterrent but to protect the public from those who don't care about the general safety of the community.
The pendulum has swung too far in favour of criminals and it's time to correct course.
Denial of responsibility!
News Leaflets is an automatic aggregator of the all world's media. In each content, the hyperlink to the primary source is specified. All trademarks belong to their rightful owners, all materials to their authors. If you are the owner of the content and do not want us to publish your materials, please contact us by email –
[email protected]
. The content will be deleted within 24 hours.