Pros:
– The A17 Pro is a beast of an SoC
– Titanium frame
– Light and handy to hold
– Finally a Type-C port on an iPhone with USB 3.0 speeds
– Camera offers a ton of options and flexibility
– Tetraprism zoom lens is a welcome addition
– Low light photography is solid
– A pretty capable gaming console with Ray Tracing capabilities
– Action Button acts as a pretty good shortcut key
– Built like a tank
Cons:
– Some iPhones can heat up, while others don't
– Action button can be set only to trigger one action
– Doesn't come with USB 3 cable in the box
– Expensive, even for an iPhone
Rating: 4.75/5
Pricing: Rs 1,59,900 for the base 256GB variant
Related Articles
Apple still facing issues in making iPhone 15 Pro Max, deliveries likely to be delayed until November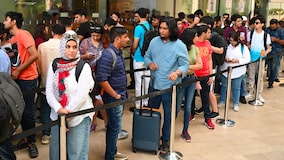 iPhone 15 Sale: People queue up for 17 hours outside Apple Stores in BKC, Saket | WATCH
Say what you will about Apple but they do know how to hype up the launch of their iPhones like no other phone manufacturer does. And because they are iPhones, they make all sorts of headlines and memes. The iPhone 15 series, especially the iPhone 15 Pro and iPhone 15 Pro Max are no different.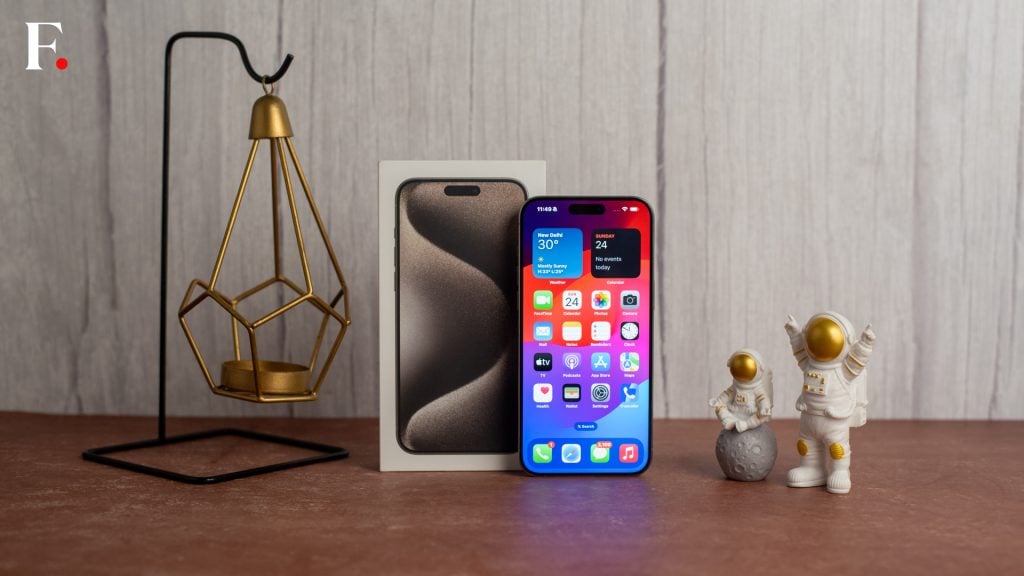 Make no mistake, the iPhone 15 Pro, despite what you may have heard or read online, is a beast of a device in every sense of the word. And like always, it comes with a beast of a price tag. Plus, here we have Apple, trying out a couple of new things – a titanium body, a USB-C port, and in a move that no one could have possibly imagined, the mute switch getting replaced by an Action Button.
All of this though comes in a very familiar package. While people have been of a perceived 'lack of innovation' with the new iPhone 15 series, Apple is still seeing massive demand for the new iPhones, specifically the iPhone 15 Pro Max. The reason? Well, there are many.
After about 10 years of rapid upgrades and advancements, the smartphone today is almost perfect. Only a major technological breakthrough is what will change the smartphone industry. It is quite natural for a tech company like Apple to hedge their bets carefully. And while they may not be the first ones to add a feature to their devices, they certainly do it in a way that no other manufacturer does. As a result, people are still taken aback when they get their hands on a brand-new Apple device, year after year.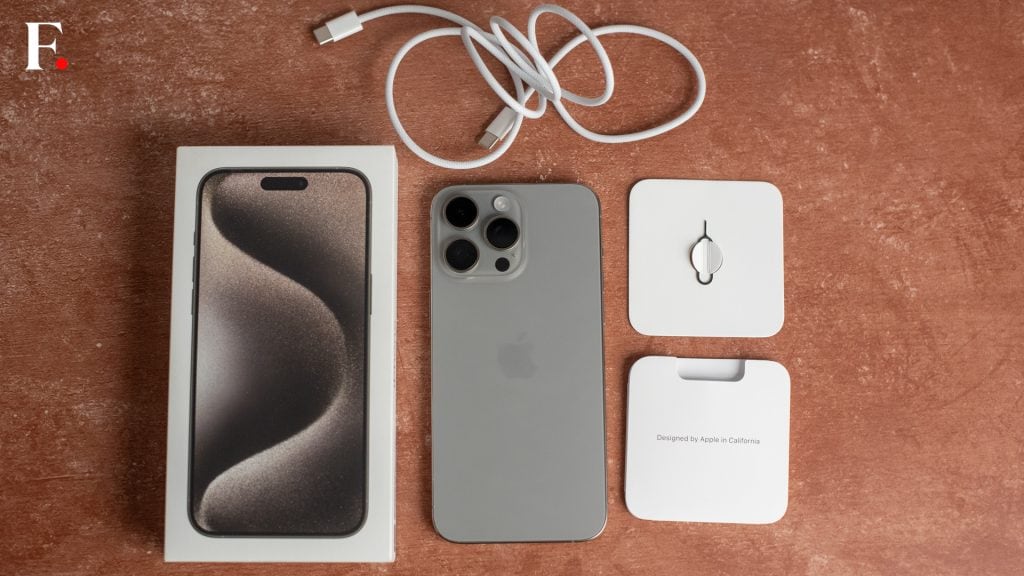 Having said all that, how does the new iPhone 15 Pro Max fare to what the best smartphones have to offer? Is the new iPhone 15 Pro Max a good enough reason for you to switch over to iOS, and Apple's ecosystem? More importantly, though, does the new top-of-the-line flagship from Apple, deserve its Pro moniker? We find out.
iPhone 15 Pro Max Review: Design
The iPhone 15 Pro Max closely resembles its predecessor, the iPhone 14 Pro Max, but there are some noticeable distinctions. Straight off the bat, there are three distinct changes that you see when you pick up the new iPhone 15 Pro Max. First, is the titanium chassis, and all that it entails, including its tendency to collect fingerprints. Then, there is the USB-C port. And finally, we have a new Action Button instead of the mute switch.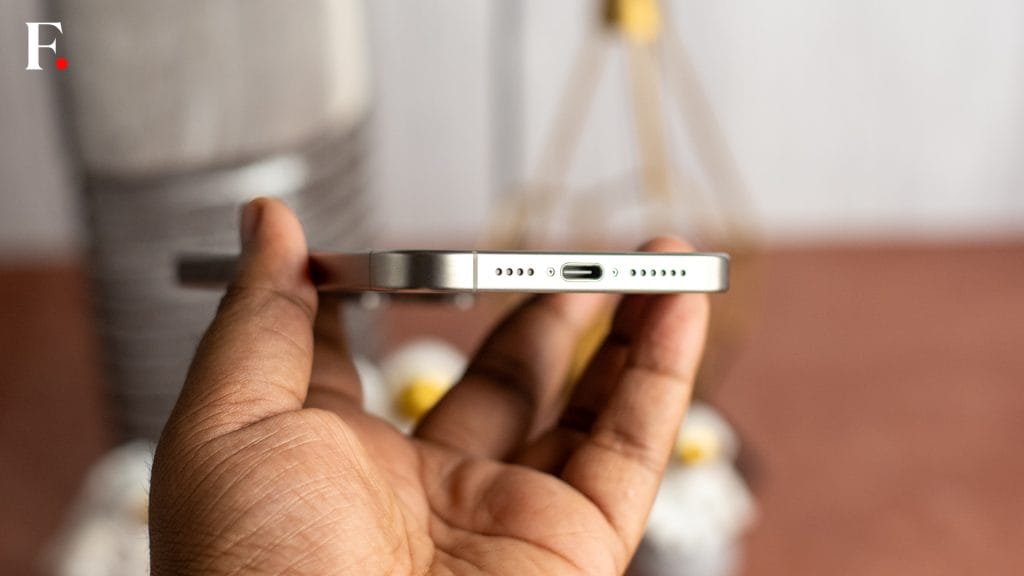 Then there are some of the minor changes. The bezels surrounding the screen of the iPhone 15 Pro Max are noticeably slimmer, resulting in a slightly smaller overall phone size. Then there are the edges of the phone which have been chamfered down, which makes the phone a lot easier and surprisingly pleasant to hold.
Despite its hefty size, the Pro Max is very comfortable to handle. The iPhone 15 Pro Max is a more comfortable device to hold, thanks to its contoured design. The edges are rounded and not as sharp as the previous Pro Max, which means they won't dig into your hands as much.
Everything else about it is pretty much what you'd expect — there's a substantial camera bump with three lenses on the back, a sleek metal frame, and a screen with a Dynamic Island cutout on the front. By the way, if you haven't been keeping up, that Dynamic Island cutout is basically a black border around the selfie camera and sensor array on the front. The clever software adds animated widgets around it when you've got background tasks running, making it seem like it's all part of the design, effectively hiding those Face ID sensors.
Let's talk about the Action button on the iPhone 15 Pro Max, which has both its merits and a few frustrating aspects. But first, let's kick things off with the positive aspects.
The button still serves its traditional purpose of muting calls with a long press if you've set Silent Mode for it. However, in the settings app, you have the flexibility to customize the Action button to trigger various functions, such as opening the camera, activating the voice recorder, turning on the flashlight, enabling translation, and more. What's even cooler is that you can select specific actions within an app, like jumping straight into a selfie mode within the Camera app.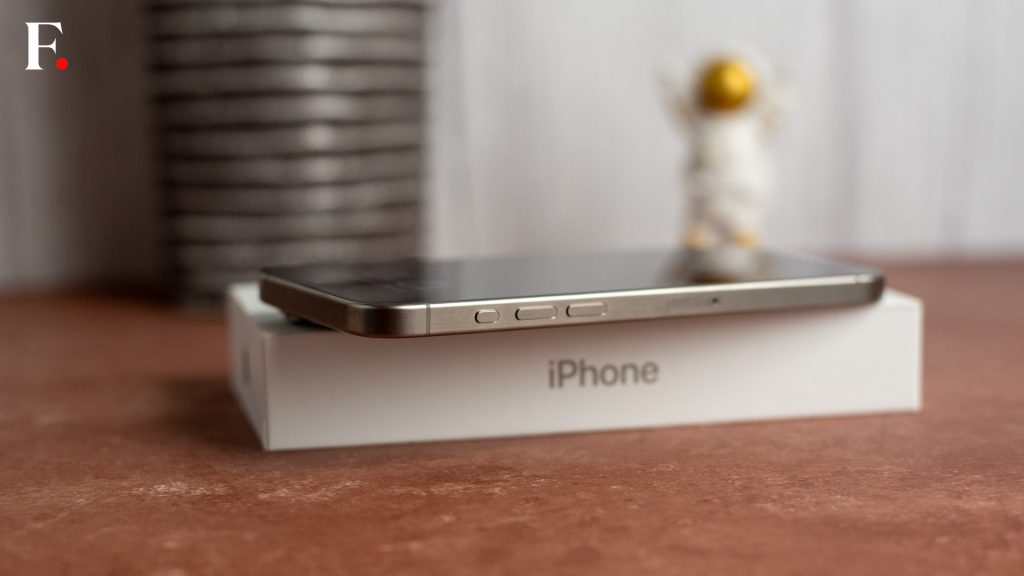 However, the Action button can only handle one function at a time. This means that if you've set it to open the camera, you can't use it simultaneously to mute calls. It would have been fantastic if Apple allowed users to customise the Action button more by allowing double of triple presses.
The iPhone 15 Pro Max has waved goodbye to the stainless steel edges of its predecessors and adopted a titanium design, which is a pretty big deal. Why, you ask? Well, because Apple is using grade 5 titanium, the same stuff that the Mars Rover is made of. This titanium is not only strong but also lightweight.
Moreover, Titanium is extremely difficult to work with, and really difficult to paint. That is why, there is only one other phone that has used Titanium in its construction.
All the discolouration photos you see on the internet, can be taken care of with a microfibre cloth, and a little elbow grease. On the plus side though, they are really strong durable, while being extremely light.
The iPhone 15 Pro Max weighs in at 221 grams, while the iPhone 14 Pro Max comes in at 240 grams. The new Pro Max is also slightly more compact, measuring 6.29 x 3.02 x 0.32 inches, whereas its predecessor measured 6.33 x 3.05 x 0.31 inches. So, even though the new iPhone is a tad thicker, it's actually easier to use with one hand. It's the first large-screen iPhone that doesn't feel like you're lugging around a brick.
As for the colours of the iPhone 15 Pro this year, they're even more understated and subtle than before. We've got Natural Titanium, which has a light beige or brownish tint and gives off a cool, industrial vibe. Then, there's White Titanium, which covers the same base but offers a cleaner look. And finally, you've got Black Titanium and Blue Titanium, both of which are dark and subdued options.
iPhone 15 Pro Max Review: Display
The iPhone 15 Pro Max uses an LTPO Super Retina XDR OLED panel that supports a 120Hz refresh rate. It also supports HDR10 and Dolby Vision. The iPhone 15 Pro Max doesn't bring a ton of new features to its display, except for slimmer bezels surrounding the 6.7-inch OLED screen. Apple maintains an impressive 1,600 nits of peak brightness, which can crank up to 2,000 nits for outdoor use.
The ProMotion display still offers a smooth 120Hz refresh rate for seamless scrolling and animations. Colour accuracy remains outstanding, as always. You also have True Tone, which continually adjusts the screen's colour temperature to match your surroundings.
In simple terms, the iPhone 15 Pro's display is a sight to behold. It's incredibly vibrant, exceptionally bright, and a pure delight to gaze at. It delivers precise colours and presents HDR content in a way that often elicits a "wow" reaction.
I tested the phone under the scorching Delhi sun, and the display held up impressively, thanks to its peak brightness of 2,000 nits. This ensured that content and text remained easily visible and legible even in the harsh sunlight.
iPhone 15 Pro Max Review: Camera
The iPhone 15 Pro Max keeps its trusty triple camera setup with a LiDAR system, but it makes an exciting change by accommodating a new 5x zoom lens (equivalent to 120mm). The camera array includes a 48 MP main/wide lens, a 12 MP ultra-wide lens, and a 12 MP 5x zoom telephoto lens.
Now, that 48 MP sensor made its debut in the iPhone 14 Pro series, replacing the previous 12 MP sensor. This year, Apple elevates its game in how it handles data from this sensor. Instead of defaulting to 12 MP photos, you now get 24 MP images, which pack in more detail without sacrificing light data, thanks to upgraded Photonic Engine and HDR algorithms.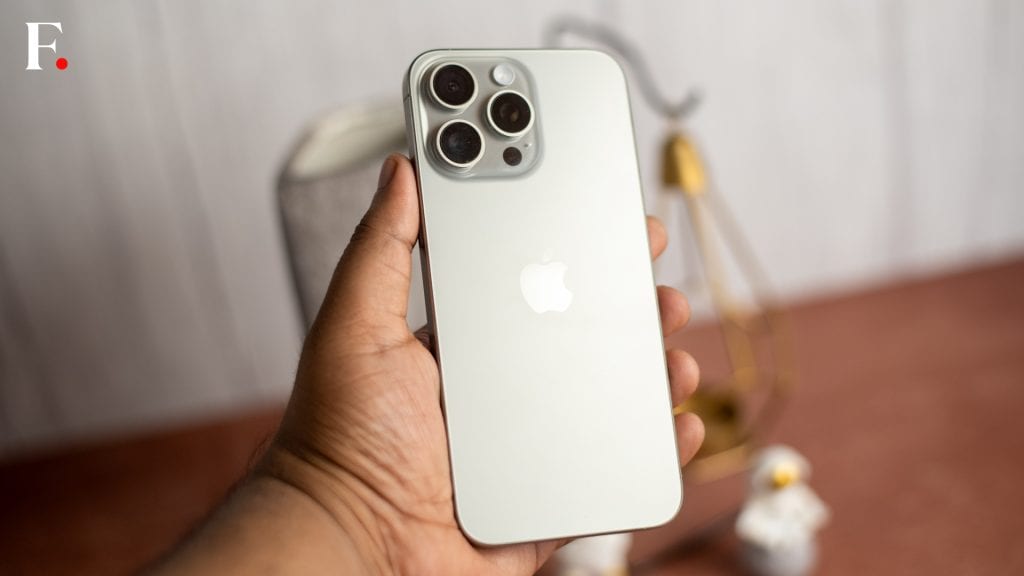 This is quite remarkable because even smartphones with 200 MP sensors don't do this by default. It's a pretty significant advancement. Additionally, the Pro Max allows you to choose between 48MP HEIF (for space-saving) and ProRAW for greater creative control.
The primary camera gives you three shooting options: 24mm, 28mm, and 25mm, and you can select your preference by tapping the 1x button to switch between them. Moreover, the iPhone 15 Pro Max's camera is clever enough to detect depth information, so you don't have to activate portrait mode to capture a portrait of a person or pet. You can also adjust the focus point of your shot after taking it.
Let's dive into the zoom capabilities. The new tetraprism lens, which is wha Apple is calling on the iPhone 15 Pro Max achieves an impressive 5x optical zoom, a substantial upgrade from the 3x on the previous model and the standard iPhone 15 Pro. You can also go up to a maximum of 25x digital zoom, a leap from the 15x on the iPhone 14 Pro Max.
In low-light conditions, the primary camera excels at capturing clean, detailed shots with enhancements to Smart HDR. While the improvement over the previous generation may be subtle, it becomes apparent in the finer details, resulting in sharper and more natural-looking images. The ultra-wide camera captures similar photos as before, with perhaps slightly better visibility in the shadows, though no major enhancements in this area.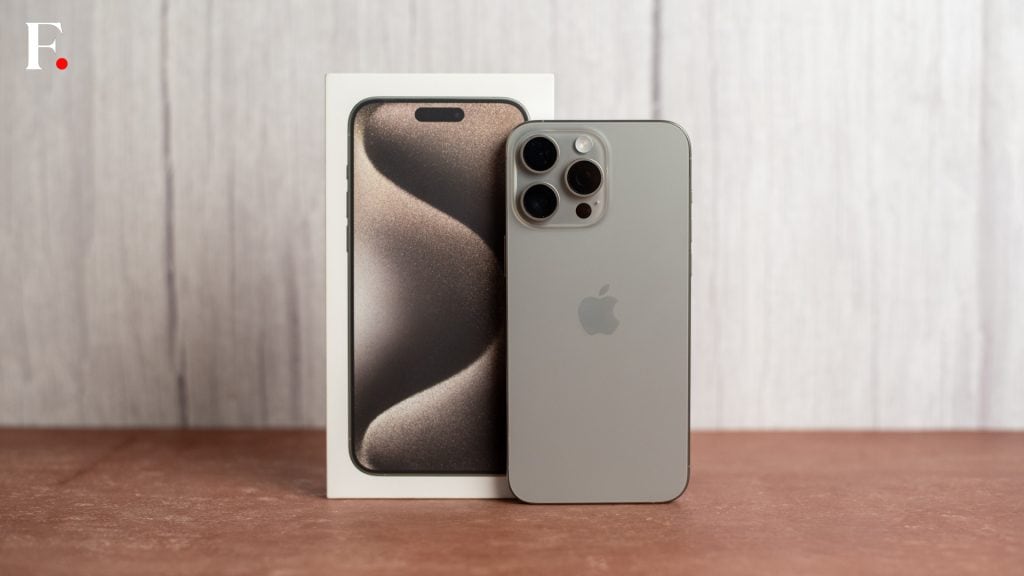 When it comes to video, the iPhone 15 Pro Max brings a couple of significant upgrades. You can now record directly to an SSD, and it's as simple as plug and play. An icon appears in the camera app, and all your footage goes to a separate folder on the SSD. It's incredibly convenient, and the ProRes quality is truly impressive.
However, it's worth noting that this is a fairly niche and pro-level feature. ProRes video files are quite large, and just a minute of footage can consume nearly 15GB of storage. But for those who prioritize video quality, this feature will be a delight. Apple also mentions the capability to shoot 3D video with the iPhone 15 Pro Max, though this feature will be activated through an update, so stay tuned for a more detailed camera review of the device.
In the meantime, here are some unedited shots taken using the iPhone 15 Pro Max.
iPhone 15 Pro Max Review: Performance, software experience and UI
Once again, it's a new year, and with it comes a new chip for the iPhones – this time it's called the Apple A17 Pro. However, this year's upgrade is more substantial than usual. The A17 Pro boasts a 20 per cent faster GPU, which now supports hardware-accelerated ray tracing, along with a 10 per cent boost in CPU performance cores.
Notably, the Apple A17 Pro marks the world's first 3nm smartphone chipset. Smaller transistors mean more space on the chip, and shorter pathways between them. In real-world testing, the improvements are indeed quite significant.
One thing to keep in mind is that the phone can run a bit warmer than usual with these higher speeds. There's an ongoing debate online about whether iPhone 15 Pro units are susceptible to overheating, and community tests are underway. Apple says that it is because of a bug in the first public version of iOS 17 and should be rectified with an update, without hampering performance.
The iPhone 15 Pro Max has the potential to be a game-changer in the world of gaming phones, all thanks to the new A17 Pro chip. Yes, Apple's latest silicon offers a 10 per cent boost in CPU speed and twice the machine learning performance. However, the real star of the show is the all-new 6-core GPU.
This means you can literally play games with console-quality graphics, complete with ray-tracing technology for the most realistic lighting effects ever seen on a phone. Down the road, the iPhone 15 Pro and iPhone 15 Pro Max are set to receive actual console-grade games, including titles like Assassin's Creed: Mirage and Resident Evil: Village.
Apple typically doesn't disclose the amount of RAM in its phones, but we now know that the iPhone 15 Pro Max packs 8GB of RAM, a slight increase from the 6 GB in the iPhone 14 Pro, which should improve multitasking capabilities.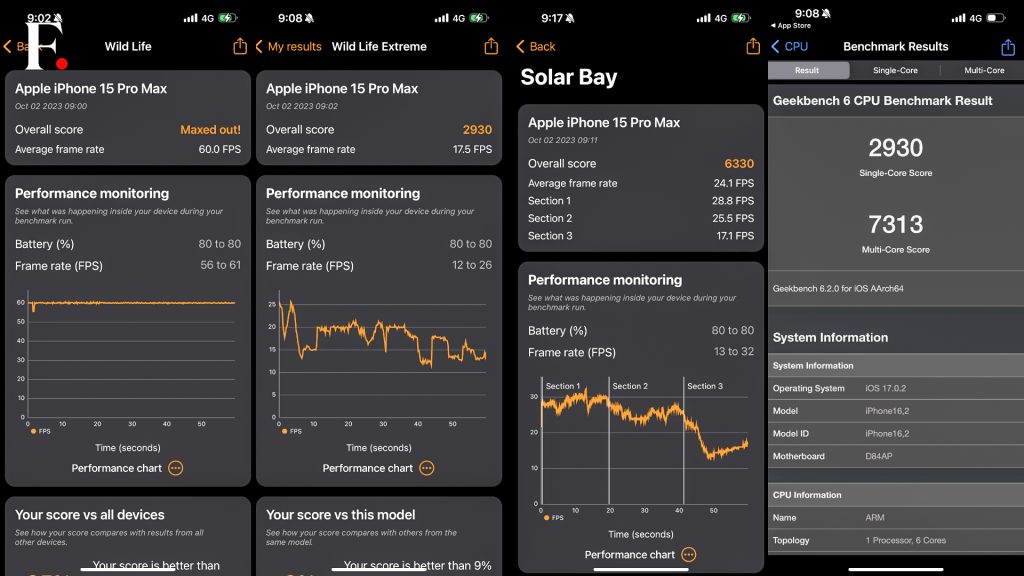 Regarding storage, the base variant with 128 GB is no more. The iPhone 15 Pro Max starts from 256GB and goes up to 512GB and even a whopping 1TB. Apple didn't simply upgrade the lowest tier; they removed it altogether.
As for that USB-C port at the bottom, it's there because of the EU's regulation mandating USB-C on personal devices. Thanks to the new Apple A17 Pro chip, it supports super-fast data transfer speeds, allowing you to copy files from your iPhone at up to 10 Gbps. However, you'll need a USB 3 cable for that, as the braided cable included with the iPhone 15 Pro Max is better suited for charging rather than high-speed data transfer. Additionally, the Pro models feature Wi-Fi 6E, which supports the fastest Wi-Fi protocols available.
iPhone 15 Pro Max Review: Battery
The iPhone 15 Pro Max manages to outshine the already impressive battery life of its predecessor, the iPhone 14 Pro Max. In our battery testing, which involves continuous web browsing over 5G, the new Pro Max lasted an astonishing 14 hours and 2 minutes, while the previous model held out for 13 hours and 39 minutes.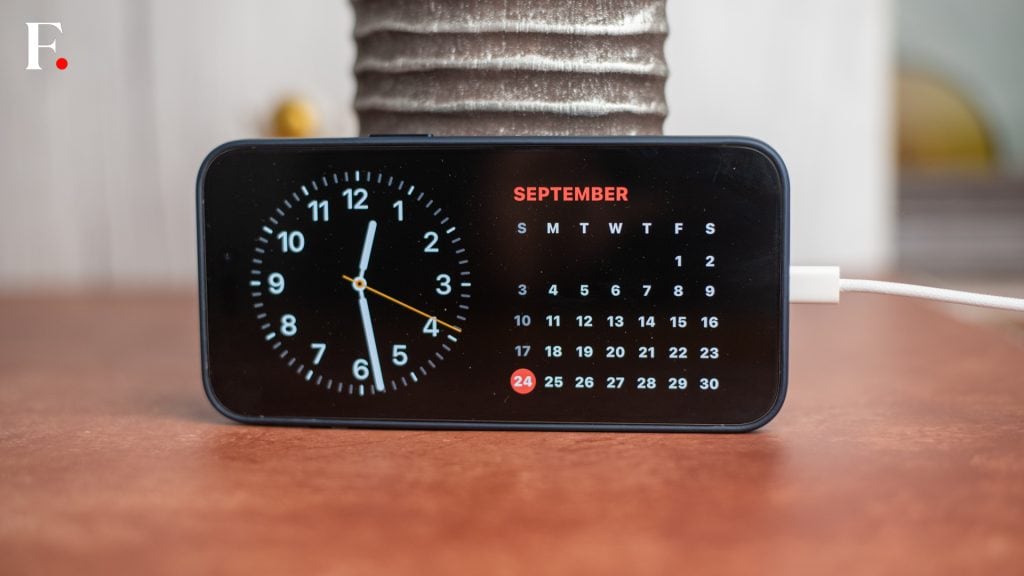 For the most part, the iPhone 15 Pro Max's battery easily made it through a full day of use, starting at 7 a.m. and lasting until 10 p.m., usually with 20 per cent to 25 per cent battery capacity remaining.
Regrettably, the iPhone 15 Pro Max still offers the same 20W charging speeds. Apple claims it can reach 50 per cent in 30 minutes, but in our test, it reached only 41 per cent. Some Android phones offer faster charging, like the Galaxy S23 Ultra, which reached 57 per cent in the same amount of time with its 45W charger.
On a positive note, the iPhone 15 Pro Max does support 15-watt wireless charging via MagSafe or Qi. In our test, the 15 Pro Max went from 7 per cent to 28 per cent in 30 minutes, which yielded remarkably similar results to wired charging.
iPhone 15 Pro Max Review: Verdict
Assuming that the iPhone 15 Pro Max lacks innovation, or is just an iterative upgrade would be a mistake. There are many subtle upgrades, all of which add up to make something special. The iPhone 15 Pro Max introduces a robust yet lightweight titanium design, making a significant impact on everyday use. It also smartly replaces the ringer switch with the Action button, which adds convenience.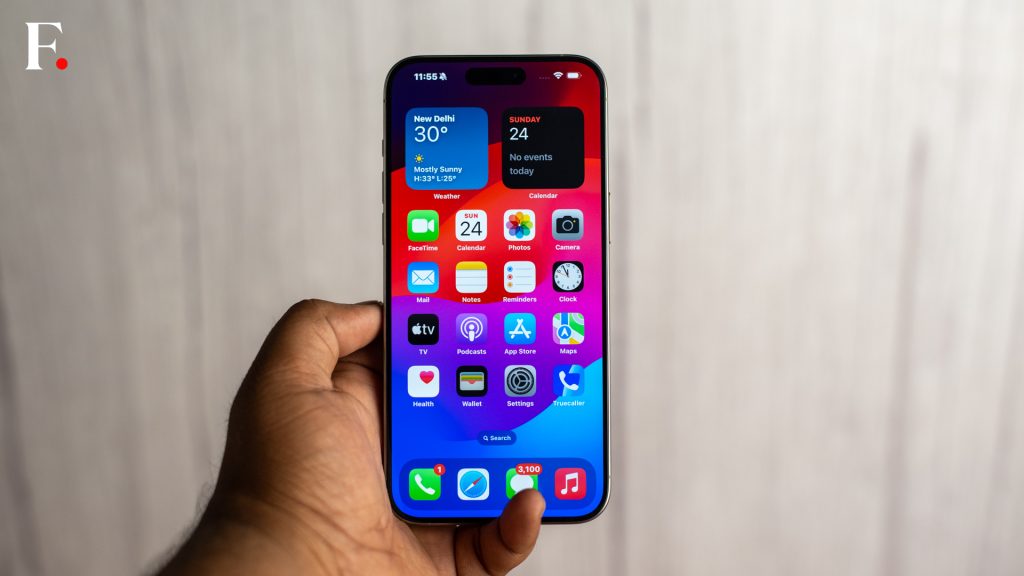 In my camera testing, the iPhone 15 Pro Max stands out with arguably the best photo quality, especially in low-light conditions. The improved 5x zoom is a fantastic upgrade that many have been eagerly waiting for, even though the digital zoom could be a tad sharper.
Coupled with the powerful A17 Pro chip for cutting-edge gaming, the addition of a USB-C port, and an impressively long-lasting battery, this device emerges as the top-tier choice for those willing to invest in the best iPhone money can buy.
It may not seem that big an update over the iPhone 14 Pro Max at first, but trust me when I say this, the little things add up. Is it worthy of an upgrade if you have the 14 Pro Max? Well, no.
However, given the price of the device, we cannot say that the device is for everyone. This one is strictly for the pros — the flagship truly deserves the moniker Pro. If you're someone who shoots a lot of videos, an influencer or a video content creator, or simply want the best performance that a smartphone can provide, then the iPhone 15 Pro Max is for you. It simply is, the best, all-things-considered smartphone out there right now.
Denial of responsibility!
News Leaflets is an automatic aggregator of the all world's media. In each content, the hyperlink to the primary source is specified. All trademarks belong to their rightful owners, all materials to their authors. If you are the owner of the content and do not want us to publish your materials, please contact us by email –
[email protected]
. The content will be deleted within 24 hours.