Key events
GOAL! Manchester City 6-0 Burnley (Alvarez 73)
This is now officially a rout. De Bruyne sends Alvarez scampering down the inside-right channel with a gloriously timed and weighted pass. Alvarez drops a shoulder to see off Al Dakhil, jinks inside, and absolutely roofs his shot into the net.
72 min: Not sure how much of that flurry was witnessed by Manchester City's fans. They were busy doing the Poznan at the time.
70 min: Mahrez is allowed to saunter into the box from the right. Peacock-Farrell blocks his belt. Alvarez can't quite sort his feet out to convert the rebound. City soon come again, Phillips striding into the box down the same flank and sending a screamer over the bar from a tight angle.
GOAL! Manchester City 5-0 Burnley (Palmer 68)
Phillips and De Bruyne combine sweetly out on the left, the latter gliding infield and finding Foden, who bursts into the box from the right. His cross is parried by Peacock-Farrell, the ball dropping to Palmer, who can't miss from six yards.
67 min: The slew of substitutions has wrecked the momentum. From a Burnley perspective, that's probably for the best.
66 min: City make another double change. Gomez and Phillips come on for Lewis and Rodri.
64 min: For the second time this week, Haaland departs just after the hour with his boots filled and swag-bag teeming. He's replaced by Palmer, while Dias makes way for Akanji. Burnley meanwhile swap Tella for Obafemi.
GOAL! Manchester City 4-0 Burnley (Alvarez 62)
City are rampant. They're playing some sensational football. Mahrez sends De Bruyne sashaying down the right. He enters the box, drops a shoulder to see off Maatsen, then rolls across to tee up Alvarez for a simple tap-in.
61 min: Haaland has now scored 42 goals in 38 appearances.
GOAL! Manchester City 3-0 Burnley (Haaland 59)
This guy! Foden is found in space in the Burnley box, to the left of goal. He opens his body and steers a magnificent shot across Peacock-Farrell and off the bottom of the right-hand post. The ball pings back to Haaland on the right-hand edge of the six-yard box. He leans backwards to flipper an instant shot back into the unguarded net. That's his second hat-trick of the week and his sixth of the season!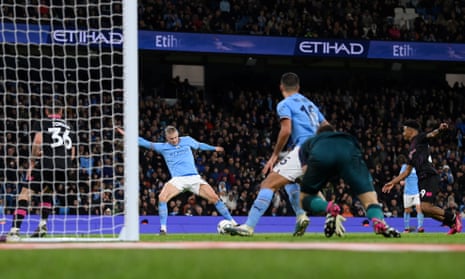 58 min: De Bruyne glides in from the left and looks for the top-right corner. The ball pings off the top of Beyer's head and out for a corner. Mahrez floats the set piece into the mixer. Foden loops a header towards the top right. Peacock-Farrell claims easily.
BREAKING NEWS: Haaland fails to convert chance
56 min: Haaland, who can do pretty much anything, dribbles in from the right, sits Beyer down, then pearls a shot towards the bottom right. Peacock-Farrell makes another fine point-blank save.
55 min: … though it's possible, had Mahrez scored, that Walker would have been judged a few inches offside. All academic, though.
54 min: City stroke it around for an age. Then suddenly Rodri sends a diagonal ball towards Walker on the right-hand edge of the box. Walker volleys a cross to Mahrez, who slams his shot straight at Peacock-Farrell. That would have been the tie, right there.
52 min: De Bruyne skies the free kick. The rain, meanwhile, is positively Mancunian.
51 min: Foden attempts to cut in from the left only for Cork to swat the ball away from him with his hand. A free kick, just to the left of the D. Cork is extremely fortunate not to go into the referee's notebook.
49 min: … and their team continue to knock it around in a progressive, easy-on-the-eye style. Last season seems an awfully long time ago now. In other news, Everton are currently 1-0 down at Chelsea.
47 min: The Burnley fans are in good voice, despite their FA Cup semi-final dreams going up in smoke. And no wonder: pretty sure they'd have settled at the start of the season for winning the Championship in style.
City get the second half underway. Burnley have made two changes, swapping out Gudmundsson and Foster for Cork and Barnes.
A nice back and forth in the BBC studio. They're talking about Haaland's five-goal haul. Micah Richards asks Alan Shearer about his biggest one-match spree, and is informed that it was five goals. Richards then asks Gary Lineker, who after pausing for a comic beat, answers four, then splutters: "Did you just conjure that up between the two of you? At least you were on my side for a week!" It's not exactly breaking news, but he's a class act, Lineker. Zinger of the day.
Half-time entertainment. The Lineker Affair wasn't the first time a prime-time light entertainment star wandered off piste in search of a greater truth. In 1974, Hughie Green, host of Opportunity Knocks, ITV's end-of-the-pier talent show, and therefore the man to blame for Little and Large, signed off an edition of the programme with this abrupt gear change …
… then a couple of years later outdid himself with this …
… a performance which makes GB News look like a Soviet rally. Surprisingly, given this sort of thing would today send the internet shearing off into a fourth dimension, no immediate action was taken by his ITV overlords. However ratings were falling, and by the end of 1978 Opportunity Knocks was replaced by the Kenny Everett Video Show, whereupon Green exited the stage accusing everyone at Thames Television of being communists. Different times, different times. Or are they?
HALF TIME: Manchester City 2-0 Burnley
There's just enough time for Maatsen to burst into the City box and warm Ortega's hands with a rising drive, and that's the end of a very entertaining half of football, in which Burnley contributed much … but then Erling Haaland happened. Again. Chalk up numbers 40 and 41 of the season!
45 min: Tella skittles Foden out on the left. He gets up and takes the free kick himself, dropping it on the right-hand corner of the six-yard box. Neither Rodri nor Dias can extend their leg to poke home. The ball was begging to be bundled over the line. What a delivery.
43 min: Beyer strides down the middle like Beckenbauer at the 1966 World Cup, turning defence into attack in an instant. The move breaks down soon enough, but that's not the point. What a run, full of confidence, determination and grace.
41 min: Maatsen drives down the middle and suddenly Burnley have a four-on-three situation. But his pass wide left goes behind Foster and the momentum is gone. Zaroury attempts a curler towards the top right, but the speculative effort goes nowhere near.
39 min: The thing is, for the most part, Burnley have been excellent! But what can you do against a team like City and a player like Haaland?
38 min: In fact there were two minutes and 57 seconds between the goals. I don't wear a watch.
37 min: So how do you follow up a five-goal haul? Will two exquisite finishes in as many minutes do?
GOAL! Manchester City 2-0 Burnley (Haaland 35)
De Bruyne sends Foden tearing past Roberts down the left. Foden rolls a cross into the box. Haaland opens his body to meet it and executes gracefully again, flipping the ball back across the despairing lunge of Peacock-Farrell and into the bottom left. 41 up!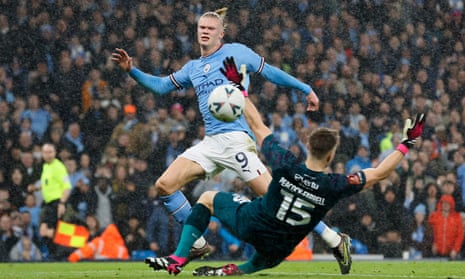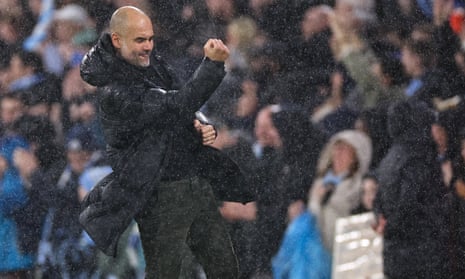 34 min: That's the 40th goal of the season for Haaland. But don't bother chalking that number up, because …
GOAL! Manchester City 1-0 Burnley (Haaland 32)
This is so simple but so, so sweet. Ortega hits long. Haaland heads down for Alvarez and spins off down the middle, pointing where he wants the pass. Alvarez delivers, rolling down the inside-right channel. Haaland is clear. Most would take a touch and attempt to round the keeper on the right, but Haaland takes it early, stroking left-footed past Peacock-Farrell and into the bottom left. He was celebrating before the ball crossed the line!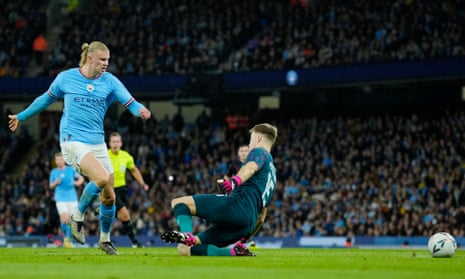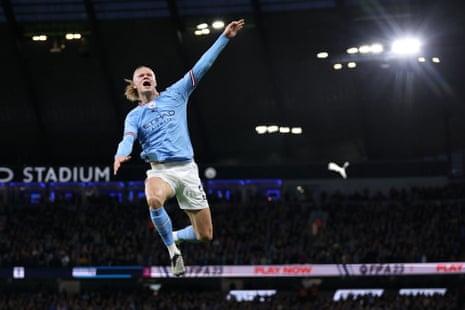 31 min: Tella has an opportunity to spring Foster clear down the middle but hesitates and is dispossessed.
29 min: Kompany has got Burnley playing some very nice football. Plenty of pretty triangles in the centre of the pitch, plus a desire to pile forward when they manage to spring the press.
27 min: De Bruyne thinks about shooting from 25 yards but tries to release Mahrez down the right instead. His pass ricochets back to Alvarez, who takes a whack from distance. A double deflection confuses Peacock-Farrell, but the ball sails well wide of the Burnley goal. Corner on the right, from which nothing occurs. This has turned into a lovely open game. Good fun.
25 min: Foden comes skittering across the front of the Burnley box, left to right, only to have his foot trod on by Vitinho. Yet another sore one for the young midfielder. Insult is added to injury as no free kick is awarded. Had that happened inside the box, VAR would have got involved for sure.
24 min: City don't deal with the corner particularly confidently. They allow the ball to bounce around, Ortega finally claiming it with Al Dakhil threatening to hook goalwards from a tight angle on the left-hand corner of the six-yard box.
23 min: Beyer slips a forensic pass down the inside-left channel and nearly releases Tella into the box. As Tella prepares to shoot, Dias comes across to slide out for a corner. That was extremely necessary from a City point of view.
22 min: Walker comes through the back of Zaroury and is fairly fortunate not to go into the book. A sign of frustration, perhaps. City haven't warmed Peacock-Farrell's hands yet.
20 min: Ortega comes miles out of his box again, taking his sweet time over a pass with Foster and Vitinho in close attendance. He gets the ball away but only just. Burnley are asking a few questions here.
18 min: Burnley bare their teeth. First up, Vitinho nicks Ortega's careless pass out and sends Foster down the inside-left channel. Lewis does extremely well to shepherd him away from goal. Then Tella has a whack from 25 yards out on the right. Ortega is forced to tip around the post for a corner. Nothing comes of that.
16 min: De Bruyne rolls a pass down the inside-left channel for Alvarez. It's overhit, but Alvarez claims possession with a slide tackle before springing up. Wonderful skill. But he can't keep going, which is a shame, because for a second things promised to unfold like this …
14 min: It's been a quiet start, but City suddenly click as Foden and Alvarez combine crisply down the left flank. Foden stands one up for Haaland, but overhits the cross and Burnley clear their lines.
12 min: Burnley are pressing City vigorously. Kompany studied at the School of Pep all right.
10 min: Roberts comes sliding in on Foden on the halfway line. He gets both ball and man. The crowd don't like it, and want Roberts booked, but that's not going to happen. Poor Foden's been in the wars already, though.
9 min: There was definitely contact, because Foden felt that, and is hobbling around a bit. Hopefully just walking off a knock.
7 min: Foden dribbles into the box from the left and is block tackled by Beyer. He goes over, though there's no real claim for a penalty. There was contact. You've seen players create over less.
6 min: Otherwise, it's been a fairly quiet start to the game. Saturday evening, prime-time light entertainment on the BBC, right here.
4 min: Ortega gives Lewis something of a hospital pass, and the young defender is nearly dispossessed by Vitinho's tackle. The ball breaks kindly for City, and Dias tidies up.
2 min: A reminder that there are no replays these days. We'll go to extra time and penalties if necessary.
Blue Moon rings around the Etihad … then Burnley get the ball rolling.
The teams are out! City wear their famous sky blue, Burnley sport a change strip of black and pink. A huge roar as the players take to the pitch, the visitors having taken nearly 8,000 fans with them today. Vincent Kompany then emerges from the tunnel and gets the reception you'd expect for a returning hero … but the biggest ovation of all is reserved for City living legend Mike Summerbee to mark the award of his OBE. We'll be off in a second!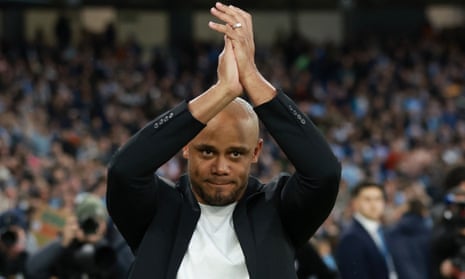 Pep Guardiola speaks to the BBC. "It will be really tough … what Burnley have done in the Championship, they are three or four games away to be champions and to be promoted … so that's why I expect a tough game … everyone who isn't exhausted or injured wants to play every game."
A blast of Barry Stoller's famous Match of the Day theme – how we missed it last week – and then, with a slight frog in the throat, Gary Lineker plays his return with a straight bat. "Good evening from the Etihad Stadium as Manchester City face Burnley."
At which point he introduces Alan Shearer, who addresses the elephant in the room: "I just needed to clear up and wanted to say how upset we were that all the audiences last week missed out on last weekend. It was a really difficult situation for everyone concerned, and through no fault of their own, some really great people in TV and in radio were put in an impossible situation, and that wasn't fair. So it's good to get back to some sort of normality and be talking about football again."
"I echo those sentiments," replies Lineker, who then segues seamlessly into some Burnley-based patter with Micah Richards. Everything everywhere back to normal all at once.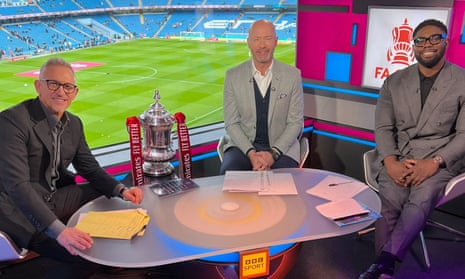 The stakes are high enough in an FA Cup quarter-final, but this is a showdown that once decided the identity of the champions of England. On a tense Monday night back in 1960, Burnley visited Maine Road to face Manchester City in the final game of the First Division season. Harry Potts' team needed a victory to pip reigning champions Wolverhampton Wanderers to the prize, and deny Stan Cullis's famous side a title hat-trick. Here's how that one panned out …
Brian Pilkington put Burnley in the lead after four minutes. Joe Hayes equalised for City soon after, only for 20-year-old reserve winger Trevor Meredith restored the visitors' advantage on the half hour, battering home a ball that had squirted out of a penalty-box melee. City had their chances to level up again: Denis Law missed a golden chance midway through the second half, while Alan Oakes shot straight at Clarets keeper Adam Blacklaw when one on one right at the very end. But that was that. Burnley were the champions! City finished 16th that season. Times change, huh.
City unsurprisingly make seven chances to the XI that started the 7-0 rout of RB Leipzig. Stefan Ortega replaces Ederson in goal, while John Stones, Nathan Ake, Manuel Akanji, Ilkay Gundogan, Jack Grealish and Bernardo Silva make way for Kyle Walker, Aymeric Laporte, Rico Lewis, Riyad Mahrez, Julian Alvarez and Phil Foden. Tuesday night's five-goal hero Erling Haaland keeps his place, along with the suddenly-back-in-form Kevin De Bruyne. It's not exactly your typical second-string FA Cup side, is it.
Burnley make three changes to the starting XI named for the 3-1 win at Hull on Wednesday night. Bailey Peacock-Farrell replaces Arijanet Muric in goal, while Ameen Al-Dakhil and Lyle Foster take the places of Hjalmar Ekdal and Ashley Barnes.
Manchester City: Ortega, Walker, Dias, Laporte, Lewis, Rodri, De Bruyne, Mahrez, Alvarez, Foden, Haaland.
Subs: Ederson, Phillips, Stones, Ake, Gundogan, Grealish, Gomez, Akanji, Palmer.
Burnley: Peacock-Farrell, Roberts, Al-Dakhil, Beyer, Maatsen, Cullen, Gudmundsson, Tella, Zaroury, Vitinho, Foster.
Subs: Muric, Taylor, Cork, Barnes, Twine, Bastien, Obafemi, Dervisoglu, Benson.
He's back! Yes, this afternoon Burnley manager Vincent Kompany returns to the Etihad, where he served as lynchpin of the Manchester City defence for 11 years, winning a dozen trophies, and where there's now a statue of him outside. But also …
He's back! Yes, this afternoon Gary Lineker returns to the BBC, from which he was briefly cashiered for the heinous crime of displaying some basic humanity, then being brazenly misrepresented by bad-faith actors.
Kick off at the Etihad is at 5.45pm GMT. The BBC's coverage begins at 5.25pm, soon after which we'll find out how strongly Lineker's opening gambit registers on the Lynam-approved shouldn't-you-be-at-work-o-meter™. Solidarity with Gary, Ian, Alex, Alan et al, not least for last Saturday's prime-time demonstration of the power in a union.
Denial of responsibility!
News Leaflets is an automatic aggregator of the all world's media. In each content, the hyperlink to the primary source is specified. All trademarks belong to their rightful owners, all materials to their authors. If you are the owner of the content and do not want us to publish your materials, please contact us by email –
[email protected]
. The content will be deleted within 24 hours.