My favourite dish cooked by my mum is stuffed bitter melon soup. It's a wholesome home-style dish that you won't find in Vietnamese restaurants. The dish itself is meaningful, nourishing and polarising.
Why polarising? Unless cooked well, the unsurprising bitter flavours can put many children off, and most kids grow up disliking it, especially if their parents enjoy the bitter flavours. There is even a meme among the Vietnamese community about growing up being forced to eat bitter melon, with some hating it and others loving it. It takes skill to cook it well so the flavours are balanced – the bitter flavours in Mum's bitter melon soup are balanced with rice and pork, and served with an abundance of fresh herbs.
In the western world, bitter melon is still seen as a vegetable oddity, an "exotic vegetable" not as readily accepted as bok choy. In eastern dietetics, however, bitter melon is prized as one of the most "cooling" vegetables available. Eating too many "heating" foods creates an imbalance of yin and yang in the body, resulting in negative bodily reactions. A simple example would be eating too many lychees or candy in one sitting; you might feel unwell or break out in pimples!
Having travelled Asia extensively for work, I have eaten many varietals of bitter melon cooked in myriad ways: in Kyoto, Japan, I ate fried white spiky bitter melon, called goya, from a street stall; in Shenzhen, China, I was served finely sliced ku gua bitter melon pickled in sugar, served on a bed of ice and tossed with peanuts and carrots; and at my local Indian takeaway, I've enjoyed karela, a deep-fried mini green bitter melon, served with biryani.
My favourite variety of bitter melon is the small, spiky, dark bitter melon native to India that has a sharp, bitter kick. Even so, the bitterness soon dissipates, meaning you get a new bitter kick with every bite.
However, in all my travels, my favourite way to enjoy bitter melon is still my mum's stuffed bitter melon soup. I am optimistic that bitter melon will continue to become more popular and mainstream, as western audiences seek punchier flavours.
What to look for when buying bitter melon
1. Firm to touch, with plump skin.
2. Bright-green uniform colour.
3. Avoid shrivelled, dehydrated or yellowing skin.
How to store bitter melon
Store bitter melon in a plastic bag in the fridge. The cool temperature and high humidity (above 80%) will help keep the vegetable firm and bitter, rather than soft, mushy and bland. Leaving the bitter melon uncovered in the fridge will cause the skin to dehydrate.
How to prepare bitter melon
Cut the bitter melon in half and scoop out the seeds with a spoon. Soak the bitter melon in iced or salted water for 10 to 20 minutes, to mellow out the flavour.
Canh khổ qua (pork-stuffed bitter melon soup) – recipe
(Pictured top)
I've amended my mum's bitter melon soup by intensifying the other flavours, so my kids would be more likely to eat it, and they love it!
Dipping soy sauce is less concentrated than cooking soy sauce – you can find it at Asian grocery stores. With the pork, ask your butcher to mince the pork neck and jowl mince twice for you. And you can use a premade pork broth if you're in a hurry.
Serves 4
20g vermicelli glass noodles
30g dried sliced wood ear mushrooms
3 light-coloured bitter melons
300g pork neck (minced twice)
100g pork jowl (minced twice)
2 garlic cloves, grated
5cm piece of ginger, peeled and finely diced
2 tsp sugar
1 tsp salt
1 tsp white pepper
1 tbsp fish sauce
For the pork neck broth
2kg pork neck bones
8 x 10 cm long pork baby spare ribs
2 tbsp salt, plus extra if needed
2 tbsp fish sauce, plus extra if needed
2 tbsp sugar, plus extra if needed
For the dipping sauce
2 red bullet chillies, finely sliced
1½ tbsp "dipping" soy sauce
To serve
1 bunch coriander, leaves and stems roughly chopped
1 bunch spring onions, finely sliced
Preheat the oven to 220C fan.
To make the pork neck broth, place the pork neck bones and baby spare ribs in a large roasting tin and roast for 20 minutes, until browned. Transfer the roasted bones to a large stockpot, cover with eight litres of water and bring to the boil. Reduce the heat to a simmer and cook for one hour or until the liquid is reduced to about six litres (no need to skim the surface of impurities). Season with the salt, fish sauce and sugar and about two tablespoons of salt (or to taste), then keep warm on the very lowest heat.
Meanwhile, place the vermicelli noodles and dried wood ear mushrooms in separate heatproof bowls. Cover both ingredients with just-boiled water and leave the noodles to soak for seven minutes and mushrooms for 15 minutes. Drain. Snip the noodles into 7cm lengths, and chop the mushrooms.
Cut the bitter melon into 4cm long cylinders, then use a spoon or knife to remove and discard the spongy internal flesh, leaving the surrounding firmer green flesh and sides intact. Transfer the hollowed-out bitter melon to a large bowl of salted water and set aside for 15 minutes. Drain.
Place the minced pork in a large bowl, add the noodles, wood ear mushrooms, garlic, ginger, sugar, salt, white pepper and fish sauce and use your hands to thoroughly combine the ingredients. Using a spoon or your fingers, stuff the pork neck mixture into the hollowed-out bitter melon cylinders, pressing the mixture into both ends to prevent any air pockets from forming. (Roll any leftover mixture into small balls and add to the soup.)
Add the stuffed bitter melon to the broth, increase the heat to a simmer and cook for 30 minutes or until the bitter melon is soft and the filling is cooked through. Taste and season the soup with more salt, fish sauce and sugar, if needed, then cook for a further five minutes.
To make the dipping sauce, combine the ingredients in a small bowl, then divide among dipping bowls.
Divide the soup and stuffed bitter melon among bowls, top with the coriander and spring onion and serve with the dipping sauce on the side for dipping the stuffed bitter melon.
豆豉苦瓜牛肉 (Beef, black bean and bitter melon on fried vermicelli) – recipe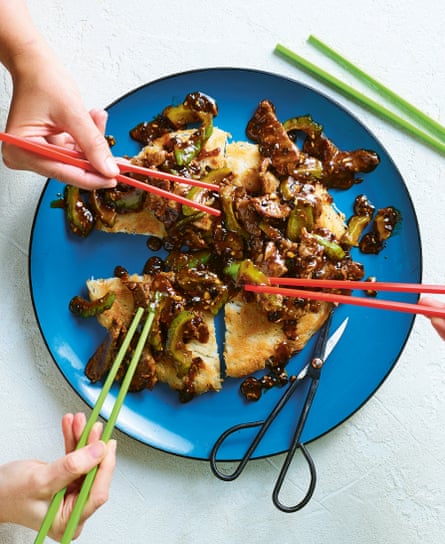 Chinese takeaways worldwide have a version of beef in black bean sauce – an even better rendition includes bitter melon. Bitter melon's sharp and bitter taste cuts through the salty and rich flavours and cools you down – a match made in heaven. The vermicelli noodles used here are Vietnamese bún made with rice flour, not vermicelli made with tapioca starch, which are called glass noodles.
Serves 2
1 bitter melon, washed and ends trimmed
400g dried rice vermicelli noodles
140ml vegetable oil
2 tbsp light soy sauce, plus extra if needed
1 tbsp cracked black pepper
1 tsp potato starch mixed with 2 tbsp cold water
200g stir-fry or sirloin beef (or lean pork), finely sliced
For the black bean sauce
3 tbsp fermented black beans, roughly chopped
4 garlic cloves, roughly chopped
2 tbsp light soy sauce
1 tbsp oyster sauce
1 tbsp Shaoxing rice wine
1 tbsp brown sugar
1 tbsp sesame oil
Cut the bitter melon in half lengthways and use a spoon to scrape out the seeds and all the white pith. Diagonally cut the bitter melon into 5mm thick slices. Transfer to a large bowl of well-salted water and leave to soak for 10 minutes. Drain and rinse under cold running water, then set aside to dry on a clean tea towel (or use a salad spinner).
Cook the vermicelli as per the packet instructions, then drain and leave in the colander to dry for at least 10 minutes.
Heat two-and-a-half tablespoons of the vegetable oil in a heavy-based frying pan over high heat until smoking. Add half the vermicelli and use a spatula or chopsticks to evenly spread across the base of the pan, ensuring there are no gaps, adding more vermicelli if necessary. Cook for three to four minutes, until the base of the vermicelli is crispy and browned. Carefully flip the noodle cake and cook for another one to two minutes until crispy. Remove the noodle cake from the pan and drain on paper towel, then cut into quarters (if very large). Repeat with the remaining noodles and another two-and-a-half tablespoons of oil.
Combine the soy sauce, pepper and potato starch slurry in a bowl. Add the beef and mix well to evenly coat the beef in the sauce, then set aside for 15 minutes to tenderise, or velvet, the beef.
Meanwhile, to make the black bean sauce, combine all the ingredients in a small bowl.
Heat the remaining two tablespoons of vegetable oil in a wok over high heat, until smoking. Add the tenderised beef and stir-fry for about one minute, until sealed. Remove the beef from the wok.
Add the bitter melon to the wok and cook over high heat, tossing frequently, for two minutes. Add the black bean sauce and stir-fry for one minute, then return the beef to the pan, along with its juices. Stir thoroughly for one minute until the sauce is thickened, then taste and season with more soy sauce if needed.
Spoon the stir-fried beef and bitter melon over the fried vermicelli noodle cake and serve.
Bitter melon omelette – recipe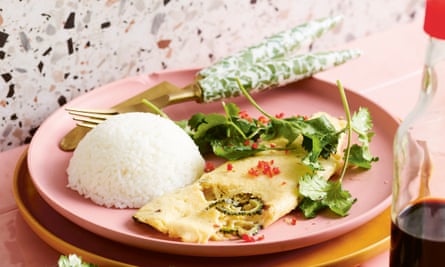 One of my favourite stir-fried egg dishes that my mum makes is eggs with bitter melon. It's quick, easy and the eggs' richness cuts through the strong taste of the fruit. The classic Vietnamese method fries the bitter melon first with onion, then the lightly beaten egg, which is scrambled quickly to ensure the egg remains creamy.
During the pandemic, I became obsessed with mastering the classic French omelette. The perfect omelette is a skill learned by 1,000 eggs, but don't worry, as long as it's not overcooked, this dish will still be delicious. You only need a small amount of bitter melon for this recipe, so seek out baby Indian bitter melons if you can, they're less sharp than the regular fruit.
Serves 1–2
¼ bitter melon, washed and ends trimmed
3 eggs
1 tsp salt
2 tsp vegetable oil
1 Thai red shallot, finely diced
To serve
Chopped red chilli
Coriander leaves
Soy sauce
Steamed jasmine rice or bánh mì (optional)
Cut the bitter melon in half lengthways, use a spoon to scrape out the seeds and white pith, then cut the flesh into 2mm thick slices. Add the bitter melon to a large bowl of well-salted water and leave to soak for 10 minutes, then drain and rinse under cold running water. Set aside to dry on a clean tea towel (or use a salad spinner).
Meanwhile, crack the eggs into a small bowl, add the salt and lightly whisk.
Heat the oil in a 20–24cm non-stick frying pan over medium heat to 130C (or until the end of a wooden chopstick sizzles when placed in the oil). Add the bitter melon and cook for one minute, then add the shallot and cook for a further 30 seconds or until golden.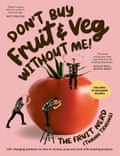 Reduce the heat to medium-low, then remove the pan from the heat for one to two minutes to cool slightly. Return the pan to the heat, add the beaten egg and swirl to coat the base of the pan. Cook for 30 seconds or until the base of the egg is just set but not coloured. Using chopsticks or a wooden fork, stir the egg in a figure-eight motion to break the curd while moving the pan up and down for about five seconds. Cook for another 30 seconds, then tilt the pan on a 45-degree angle and force the egg to slide to one side. Using a spatula, wooden fork or chopsticks, flip the outer edge of the omelette on to itself, then flip the other side over the top. Cook for a further 30 seconds, then grab a plate, place it on top of the frying pan and invert the omelette on to the plate.
Scatter the omelette with a little chilli, coriander and soy sauce, and serve with steamed jasmine rice, in a bánh mì or enjoy on its own.
Denial of responsibility!
News Leaflets is an automatic aggregator of the all world's media. In each content, the hyperlink to the primary source is specified. All trademarks belong to their rightful owners, all materials to their authors. If you are the owner of the content and do not want us to publish your materials, please contact us by email –
[email protected]
. The content will be deleted within 24 hours.