Pros:
– 64GB Onboard storage
– Top-notch display for a smartwatch
– Plethora of sizes, colours, and band options to choose from
– Extensive array of health, fitness, and safety features and sensors
– Siri working offline
– Double-tap feature has great potential
– Major points for carbon-neutral design and manufacturing
Cons:
– Design similar to last-generation Apple Watches
– Battery life is still not the best in class
– Some features only work with iPhone 15 and up.
Rating: 4.75/5
Price: Starts at Rs 41,900
Related Articles
Can smartwatch save lives by detecting heart attacks?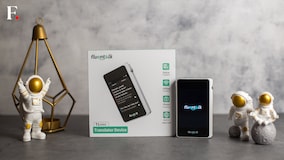 Fluentalk T1 mini translator device by Timekettle Review: Your ultimate overseas travel companion
On the surface, the Apple Watch Series 9 looks and feels a lot like the Series 8. And while Apple may not have reinvented the wheel with this one, there are some pretty noteworthy changes and upgrades, and we see that most of these changes are under the hood.
When we dive deep into the internals of the Apple Watch Series 9 we see that Apple is using a much faster and more efficient chipset, a more vibrant display, and a bunch of new features. Despite maintaining a design that is similar to the previous gen Apple Watch, the series 9 Apple Watch does stand out because of these.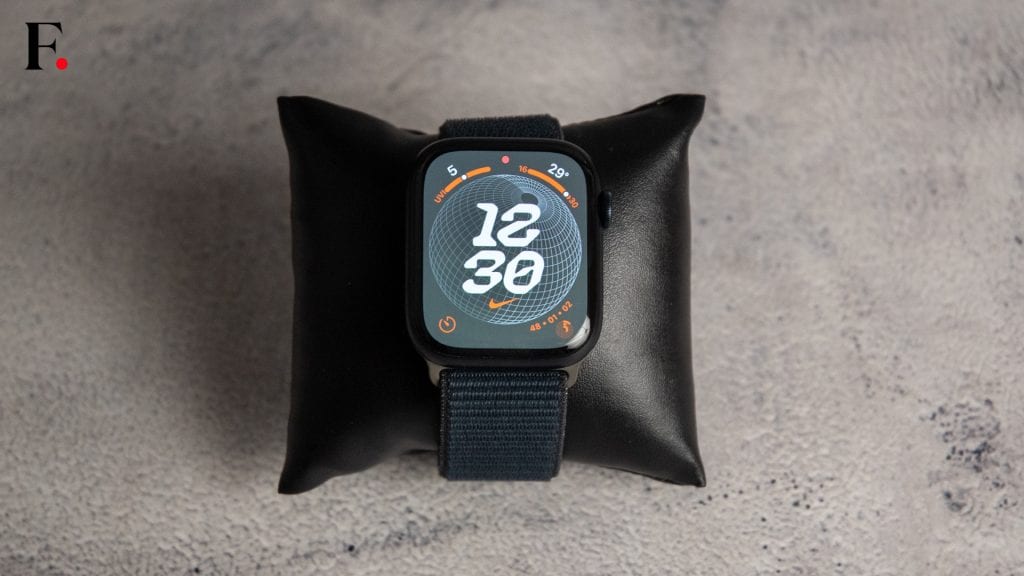 Going beyond mere performance enhancements, Apple takes a commendable step toward the environment with the Series 9. Featuring increased use of recycled materials and produced entirely using clean energy, it marks Apple's first product into carbon-neutral product development, a feat that Apple hopes to emulate in other products as well.
The Series 9 introduces practical updates such as support for a convenient double-tap gesture and on-device Siri processing. While these may seem like small tweaks, they contribute to keeping the Apple Watch Series 9 significantly ahead of its competitors in the smartwatch market.
Apple Watch Series 9 Review: Design
The Apple Watch Series 9 is available in two case sizes – 45mm and 41mm – offering a choice between aluminium or stainless steel. With a slim profile of 10.7mm, the watch boasts an IP6X dust resistance rating and is water-resistant up to 50 meters. Weighing approximately 32 to 39 grams, depending on the model, it is compatible with a variety of bands. Interestingly, the Series 9 maintains a striking resemblance to its predecessor, the Apple Watch Series 8.
Although there are some subtle design differences, they may go unnoticed by the casual observer. While all aluminium Apple Watch models were previously constructed from 100 per cent recycled aluminium, the Series 9 takes sustainability further with more recycled internals, including a 100 per cent recycled cobalt battery. The Sport Loop accompanying the review unit features 82 per cent recycled yarn, contributing to the carbon-neutral certification of the aluminium watch.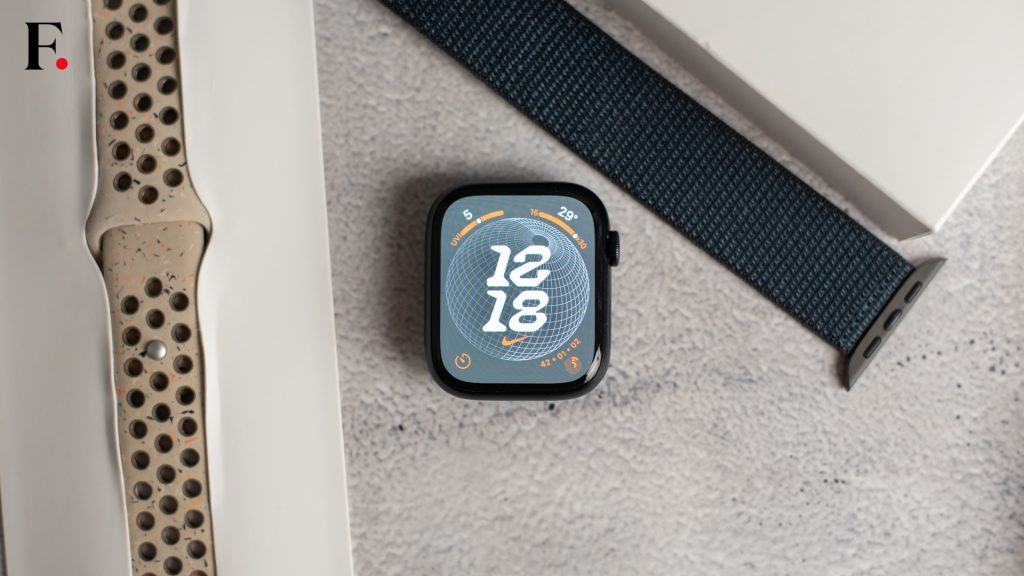 Notably, Apple is discontinuing all leather bands, including the Hermes collection, in favour of a new recycled textile called Fine Woven. This pairs well with the Stainless Steel models, although the Stainless Steel unit itself does not carry the carbon-neutral certification. However, users have the flexibility to personalize their Series 9 with a wide range of Apple Watch bands.
Setting up and using the new Apple Watch remains remarkably simple. The digital crown, side button, and touchscreen combination ensures a seamless and intuitive navigation experience on the new watchOS 10 operating system. Accessing Settings through the side button feels like a natural step, and the new widget stack enhances ease of use by simplifying the process of jumping to the desired widget.
This year introduces a new Pink colour option, while Midnight, Silver, Starlight, and Product Red colours make a return from the previous year. The premium stainless steel models are available in Gold, Silver, and Graphite colours, and can be purchased with a matching metal band, complementing the watch's casing.
Apple Watch Series 9 Review: Display
The Apple Watch Series 9 maintains the same size for its OLED screen as its predecessor, the Series 8. While it hasn't achieved a completely edge-to-edge design, anticipation is high for Apple to further reduce the bezels in the upcoming 10th iteration. The LTPO OLED display continues to impress with its attractive visuals, boasting vibrant colours and deep blacks. However, the standout improvement lies in the brightness department, with a significant increase from 1000 nits to 2000 nits. This enhanced brightness becomes particularly noticeable when using the smartwatch under the direct and intense sunlight of summer in Delhi.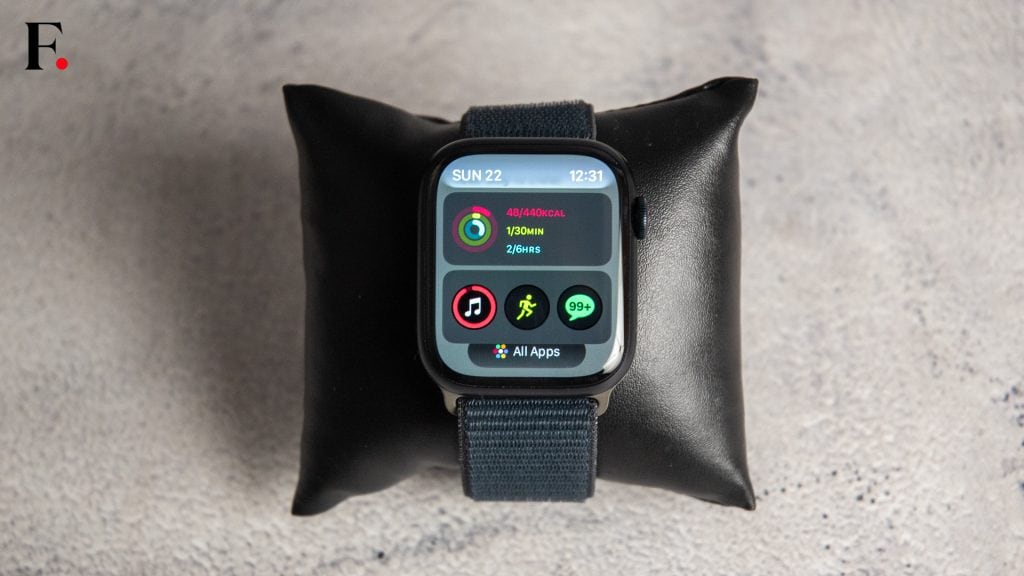 Additionally, the Series 9 introduces a noteworthy feature for its always-on display, allowing it to drop to an ultra-low brightness of just one nit. This capability enhances the device's adaptability in various lighting conditions, catering to users who prefer a subtler display in specific situations.
Apple Watch Series 9 Review: Performance, features and software
Apple launched the Apple Watch Series 9 with the new, cutting-edge S9 SiP (System in Package). Boasting a 30 per cent increase in performance compared to its predecessor, the S8 chip, the Series 9 introduces a four-core Neural Engine that facilitates on-device Siri processing and supports functionalities like the Double-tap gesture.
One of the standout features of the Series 9 is its on-device Siri processing, allowing users to execute basic tasks such as setting reminders or alarms without the need for an active internet connection.
The device ensures smooth animations and app transitions, minimizing lag during application usage. While users upgrading from the Series 8 may not experience a drastic performance leap, the Series 9 excels in responsiveness when swiftly navigating between workouts, weather updates, or Apple Music on the go.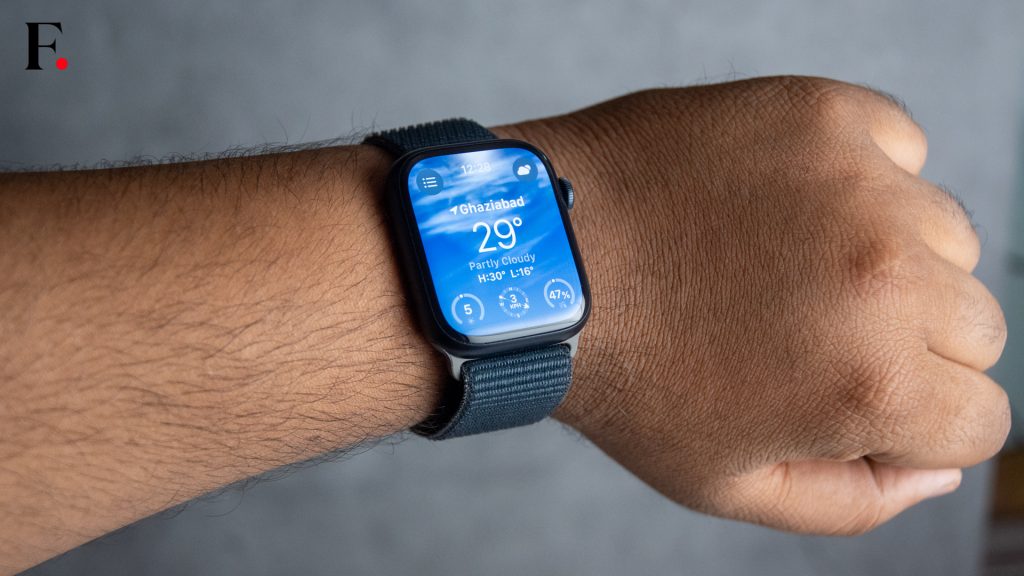 A notable improvement is the doubled internal storage capacity, now offering a generous 64GB. This expanded storage proves advantageous for users who prefer storing music directly on their smartwatches, eliminating the necessity of carrying a phone.
The sensor array on the back of the Apple Watch Series 9 remains almost the same as that of the Series 8. This means it continues to offer features like heart rate and blood oxygen level measurement, electrocardiogram functionality, and the ability to gauge skin temperature for sleep and cycle tracking.
The Apple Watch Series 9 also provides a comprehensive selection of workouts to monitor, and the relevant data is conveniently displayed on the screen. Additionally, certain activities, such as cycling, showcase a Live Activity feature on your iPhone.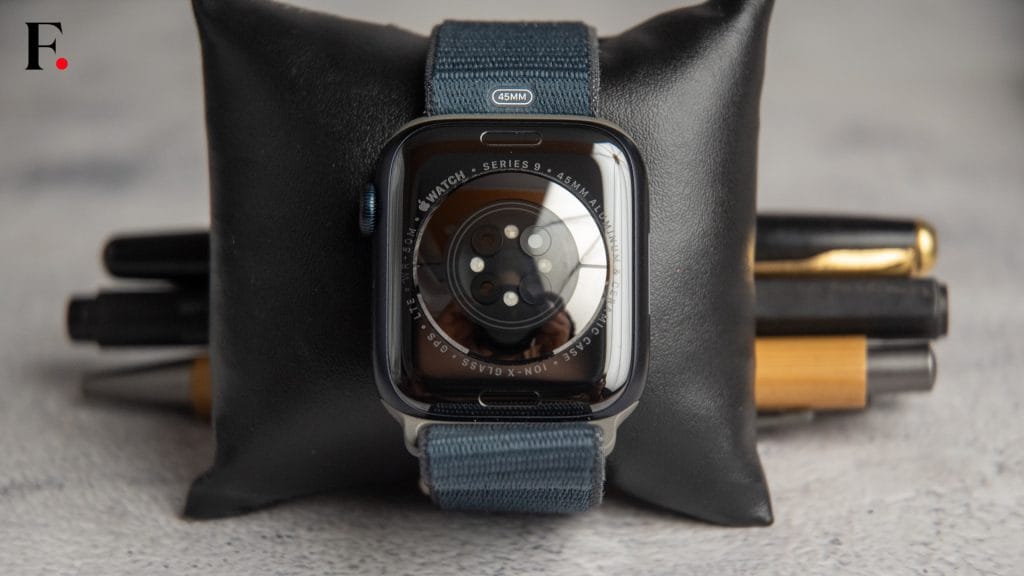 Noteworthy advancements come from the watchOS 10 update rather than intrinsic changes to the Apple Watch Series 9. Apple has enhanced the cycling mode by introducing Power Zones and compatibility with Bluetooth accessories.
For hikers, the Compass app now includes the ability to track elevation changes, and specific regions benefit from the inclusion of topographic maps. Both watchOS 10 and the Apple Watch Series 9 boast an impressive array of health and safety features, encompassing crash and fall detection, hearing protection, insights into sun exposure duration, medication reminders, and new mindfulness sessions. The Series 9 also integrates SpO2 monitoring and VO2max estimation, making it even better for health and fitness tracking.
In a significant update, the Apple Watch Series 9 introduces Apple's latest U2 ultra-wideband (UWB) chip, bringing innovative functionality. The U2 chip enhances the device's ability to locate connected iPhones using the ping feature. However, there is a caveat — this feature is exclusive to iPhone 15 users with the newer U2 chip, limiting its functionality to those who upgrade their phones.
The Series 9 also outshines the Series 8 in responsiveness while switching between apps and navigating menus. Plus, using the new Smart Stack UI in watchOS 10 feels incredibly smooth.
Apple has also improved how quick and responsive Siri has become since the watch now supports on-device computing for faster responses without sending data to the cloud. This means Siri functions seamlessly even when the Apple Watch Series 9 is not connected to Wi-Fi or a smartphone. Apple claims a 25 per cent increase in dictation accuracy, although assessing this improvement in a controlled testing environment proved challenging.
Apple Watch Series 9 Review: Apple's Double Tap
With the Watch Series 9 and Watch Ultra 2, Apple has rolled out a significant new feature, Double-Tap. Although this feature was introduced with the recent watchOS 10.1 update, it is exclusive to the new generation of watches.
The Double Tap is essentially an accessibility feature, that has been designed to allow users to carry out one-handed operation, in certain situations where the use of the other hand is impractical. The feature is activated by a simple double-tap of the thumb and index finger and can be used to execute the basic function of whatever app you're in.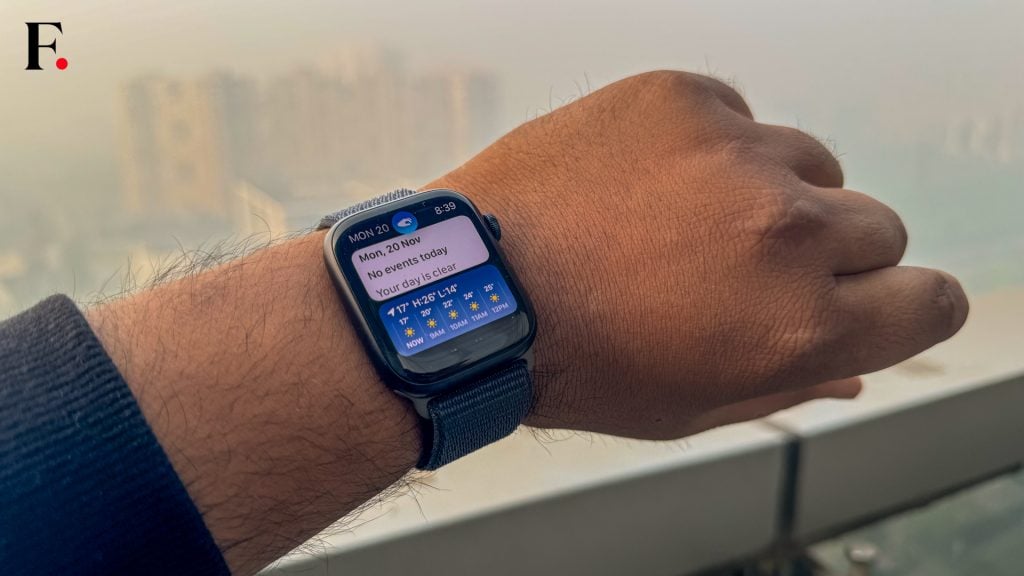 While a previous version of Double-Tap existed in watchOS 8, it was tucked away in the Accessibility settings. The older gesture feature, Assistive Touch, allowed users to customize actions like accessing the notification centre, dock, or control centre, dismissing messages, waking Siri, and other shortcuts through a single pinch, double pinch, or clenching a fist.
However, Assistive Touch had a major drawback — it was more power-hungry, utilizing additional processing power. In contrast, the Double-Tap feature leverages the S9 chip's Neural Engine, making it exclusive to the Series 9 and Watch Ultra 2.
The current iteration of Double-Tap supports a single action: a double tap. You can use this feature for various tasks such as playing or pausing music, accessing the Smart Stack, and managing major notifications like answering or ending calls, stopping timers, replying to message notifications, snoozing alarms, using the watch as a remote trigger for the iPhone's camera, among others.
However, it's important to note that the Double-Tap feature is set to perform the default action associated with the specific notification or app and currently cannot be customized. There's a good chance that Apple may push out an update next year with the Watch Series 10 that will allow users to customise the Double Tap function.
Apple Watch Series 9 Review: Battery
The efficiency of the S9 chip ensures that boosting the screen brightness on the Series 9 doesn't compromise battery life compared to the Series 8. In practical testing, the Series 9 demonstrated resilience, lasting approximately 30 hours on a single charge under normal usage conditions.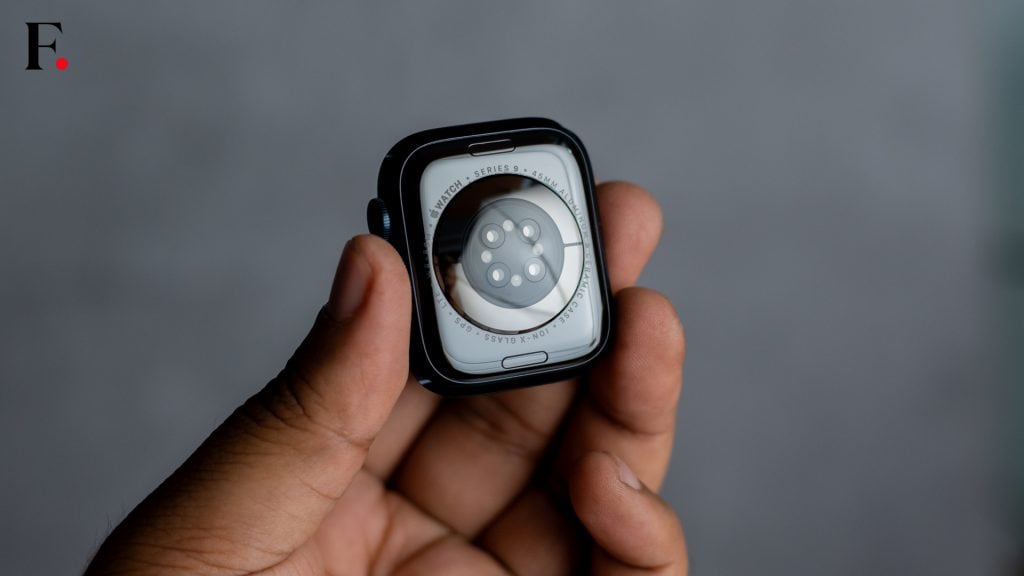 However, if you engage in workout modes for an hour or more, the battery life is somewhat shortened to about a day and a half. Enabling the always-on display feature further trims it down to a full day. It's worth noting that Apple's charging cord now comes in a braided design, which adds a nice touch. Nonetheless, it still takes around an hour for the watch to go from completely dead to fully charged.
Apple Watch Series 9 Review: Verdict
While the Apple Watch Series 9 may not bring revolutionary changes, it stands out as the top-tier smartwatch, not only within Apple's ecosystem but also when compared to premium offerings in the Android realm. Priced starting at ₹41,900, the new Apple Watch Series 9 emerges as the most versatile smartwatch in the Apple Watch lineup, excluding the Ultra variant.
We also like the fact that it has a carbon-neutral build and applaud Apple's move to discontinue leather accessories. It sits perfectly well between the Apple Watch SE and the second-generation Ultra and is the most pragmatic option for most users.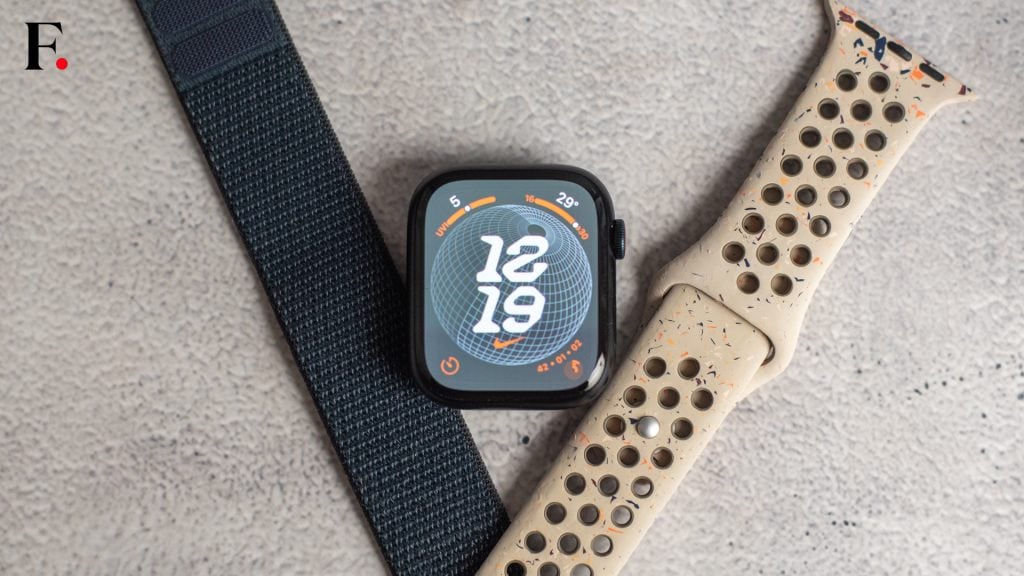 The improvements introduced this year may not be absolute must-haves for most users, but they contribute to a more user-friendly experience, marking another stride in advancing the smartwatch landscape.
The S9 SiP enhances the smartwatch's responsiveness, making it snappier than ever, and there's a slight improvement in battery life. Perhaps the most notable upgrade is the new double-tap feature, which seems poised to evolve and improve in the future. However, it's worth noting that this single feature alone might not be enough for people to justify upgrading from a Series 8 or a Series 7.
Denial of responsibility!
News Leaflets is an automatic aggregator of the all world's media. In each content, the hyperlink to the primary source is specified. All trademarks belong to their rightful owners, all materials to their authors. If you are the owner of the content and do not want us to publish your materials, please contact us by email –
[email protected]
. The content will be deleted within 24 hours.