Kwasi Kwarteng returns to Westminster early as Tory discontent over mini-budget grows – UK politics live | Politics
Key events
Jane Merrick from the i points out that the flight that Kwasi Kwarteng was on performed several U-turns before landing at Heathrow, perhaps in a sign of things to come.
The flight on which Kwasi Kwarteng was travelling from Washington has now landed at Heathrow Airport.
The Guardian's Jim Waterson has the video.
Kwarteng is expected to head straight to Westminster for crisis talks on his mini-Budget.
That Ipsos poll we discussed earlier also shows Liz Truss has the lowest level of satisfaction with the public ever recorded for a UK prime minister.
The poll shows 16% of adults are satisfied with Truss as prime minister, down 11 points on last month. Her net satisfaction score of -51 is worse than the lowest scores for Boris Johnson (-46), Theresa May (-44), David Cameron (-38) and Tony Blair (-44).
Beleaguered chancellor Kwasi Kwarteng's sudden return to London recalls the troubles faced by prime minister James Callaghan in January 1979. Conservative MP Simon Hoare this morning wrote on Twitter, "'Crisis? What crisis' springs to mind".
Back in 1979, Guardian reporters Ian Aitken and Michael White covered the then-PM's return from his summit in the Caribbean. Weighed down by huge global problems, Callaghan told reporters at Heathrow "I don't think other people in the world would share the view that there is mounting chaos."
That quote, White later said, was ignored by The Sun: "The tabloid then in the early stages of its predatory career as political assassin, famously translated that as "Crisis, what crisis?" – a quote that would haunt him for the rest of his life.
Kwasi Kwarteng has hit a record low of nearly 50 years for chancellors after his mini-budget mayhem, according to a new poll.
The Ipsos survey for the Evening Standard showed 65% of respondents are dissatisfied with him, and just 12% said they are satisfied.
The figures give Kwarteng a net rating of -53 just over a month into the job.
Truss 'cancels constituency meetings to stay in No 10'
The BBC is reporting that the prime minister, Liz Truss, has cancelled a series of meetings in her constituency to stay in London and concentrate on the crisis surrounding her mini-budget.
The Conservative peer, Lord Ed Vaizey, said he disagreed with the international trade secretary, Greg Hands, who earlier said Kwasi Kwarteng's early return is not unusual. "It is quite unusual for this to happen," he said.
Speaking to Sky News, Vaizey said the chancellor cutting his trip to the US short is "not a good sign". He said:
I'm afraid the chancellor coming back a day early doesn't fill one with confidence.
Some changes to the government's mini-budget appear to be "inevitable" after it caused such a "catastrophic" economic crisis, he added.
He said a U-turn would be "very embarrassing" for Kwarteng and be "very damaging" to his authority, but it is "not inevitable" he will be forced to go. He added:
The fact that people were speculating about the prime minister's leadership this early in her premiership is not ideal but I think he's just got to bite the bullet. He's got to try to give the markets confidence in the British economy.

If he can do that then perhaps he can say: 'Well, I had to do some difficult choices, slightly humiliating choices but the result is stabilisation and I can move forward.'
The chancellor Kwasi Kwarteng's flight is due to land at London's Heathrow airport in about half an hour, according to the flight tracking site Flightradar24.
Johnny Marr's drummer, Jack Mitchell, has tweeted that Kwarteng is on their flight.
We can't verify this tweet but Marr has been performing in Washington this week and has no further US tour dates scheduled.
The former culture secretary, Nadine Dorries, has lashed out at reports that senior Tories are plotting to remove Liz Truss as prime minister.
The Times published a report last night claiming that senior Conservatives are holding talks about replacing Truss with a joint ticket of Rishi Sunak and Penny Mordaunt as part of a "coronation" by MPs.
Party "grandees" are reportedly in discussions about replacing Truss with a "unity candidate", the paper reported. It quoted one senior Tory as saying that a "coronation won't be that hard to arrange".
Dorries described the reported plot as an attempt to "overturn democracy".
A No 10 source has told the BBC's Chris Mason that the prime minister wants Kwasi Kwarteng to continue in the job and that she believes he is doing "an excellent job".
Senior Tory warns Truss economic U-turn must be 'significant'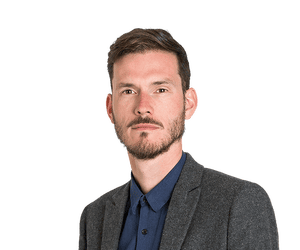 Jamie Grierson
A senior Conservative MP has said that Liz Truss must not "nibble at the edges" but instead perform a "powerful" and "significant" U-turn with its so-far disastrous economic plan.
Mel Stride, the chair of parliament's Treasury select committee, told the BBC's Today programme:
My personal view is that it [a U-turn] should happen, we have reached a point where we need this very powerful and significant signal to the markets that fiscal credibility is firmly back on the table, and I think that means doing something right now and not delaying.

Doing something very significant too – right at the heart of that will be unwinding the position on corporation tax.

The danger here is the argument in the room lands in a place where they decide to nibble at the edges of this and I'm afraid I don't think that will cut it, and you could end up in that circumstance in the worst of all worlds where you've U-turned but doesn't settle the markets in the way we need to.
The chairman of the Treasury select committee, Mel Stride, has urged the chancellor, Kwasi Kwarteng, to row back on tax cuts announced in the mini-budget and to "do it now".
Markets have seen some stabilisation on the news of a potential U-turn, Stride told BBC Breakfast. If the U-turn doesn't happen, then the markets "may have an adverse reaction to that", he said.
Stride said:
My advice to the Chancellor would firmly be, 'do it, do it now, make sure it's something significant, not just nibbling at the edges but something that's going to be firm, bold and convincing, and do it as soon as possible.
He said he hopes Kwarteng is flying home from the US early to have conversations with Liz Truss and row back on tax cuts. Asked if he has any faith in any of the mini-budget, Stride replied:
I've argued for a long time that coming forward with multiple tens of millions of pounds-worth of unfunded tax cuts in a high inflationary environment with a tight labour market and low growth was never likely to lead to a situation where growth suddenly springs forward and everything slots into place. It was more likely to lead I'm afraid in the kind of lack of confidence that's been in the markets over the last few weeks.

But that's not to say that we can't reset and I think there is the time to do that. But I think he needs to bring any announcement he's going to make about U-turns on taxes, he needs to make them sooner rather than later and certainly not wait till the end of the month when he'll be bringing forward his general plan and this Office for Budget Responsibility forecast.
The Telegraph's Jack Maidment says the mood this morning among Tory MPs is particularly grim.
One MP tells him the situation is a "total mess" and that many other MPs think Liz Truss has to go.
Here's more from international trade minister, Greg Hands, who when asked if there will be any more U-turns on the mini-budget, replied: "Let's wait and see."
Speaking on Sky News this morning, he said:
Let's wait and see. You won't have long to wait for the 31st of October for the Chancellor to lay out those plans. I do say that the prime Minister and the chancellor are absolutely resolute, determined. The growth plan (is) the centrepiece, but we'll have to see some of the detail including a full forecast from the Office for Budget Responsibility on the 31st of October.
Here is a summary of Hands's morning interview round:
The government will make responses as appropriate as events happen, but the absolute commitment is to publish the medium-term fiscal plan. This is looking at how the government is going to pay for everything, how the government is going to set its budget in the coming years and that will be laid out in just two weeks' time.
Liz Truss is our Prime Minister, she has my confidence she should have the confidence of all Conservative MPs, the whole Conservative Party and actually deserves the confidence of the country as we go into quite difficult economic times with the rise in energy driven by Vladimir Putin's invasion of Ukraine, the turmoil in global financial markets.
I don't recognise that story at all. I was a supporter of Rishi Sunak; somehow I'd be very surprised at that story. I was talking only yesterday with Penny Mordaunt. I don't recognise that story at all.
There were a number of different proposals flying around by people frankly attached to both camps.
Things have moved on a lot. The world has changed a lot from the summer.
Minister says Kwarteng's early return is 'not unusual'
The international trade minister, Greg Hands, has insisted it is "not unusual" for the chancellor, Kwasi Kwarteng, to be returning early from a trip abroad.
Speaking on Sky News, Hands said:
It's not unusual to come back a day early from an international visit. He's coming back for discussions with colleagues, we obviously have the medium-term fiscal plan coming up on 31 October, so just in a couple of weeks' time. There's work to be done, there's conversations to be had with colleagues.

But the major meat of the meetings of the IMF and World Bank have finished and the chancellor of the exchequer has been there two days.
He also insisted on ITV's Good Morning Britain that the prime minister, Liz Truss, and Kwarteng are safe and sought to emphasise that UK financial markets are not the only ones in turmoil.
Kwarteng leaves Washington DC early
After a torrid three weeks since his mini-budget sent the economy – and the Tory party – into turmoil, the chancellor, Kwasi Kwarteng, has left a meeting of the IMF in Washington DC early to return home, amid expectations that he and the prime minister, Liz Truss, will be forced into a humiliating U-turn barely a month into their tenure.
As my colleague Larry Elliott reports:
Kwasi Kwarteng has dramatically cut short his visit to the International Monetary Fund, flying home early from Washington in response to the mounting political crisis over his tax-cutting budget.

Adding to signs that the government is preparing to announce a U-turn over its plan to scrap a rise in corporation tax, the chancellor left the US capital a day earlier than planned.

Treasury sources said the chancellor had two constructive days in Washington but was keen to get back to London to engage with colleagues over his medium-term fiscal plan, due to be announced on 31 October.

But his unscheduled departure on a late-night flight from Washington capped a day of drama for the Truss government and prompted comparisons with the sterling crisis suffered by the Labour government in 1976.

Then, the chancellor Denis Healey turned around at Heathrow rather than fly out to an IMF meeting in Manila after pressure mounted on the pound.

Treasury sources refused to comment on whether Kwarteng's decision meant a U-turn on corporation tax was imminent, but the chancellor was under pressure to make a decision before the financial markets open for business on Monday.
We will have all the latest developments here on the politics live blog.
Here is the agenda for the day.
Morning. Economic Crime and Corporate Transparency Bill – second reading.
9.30am. The Office for National Statistics will publish its latest survey of the social impact of the cost of living, goods shortages, and Covid-19.
10.30am. Charity Asylum Aid is bringing a High Court challenge to the government's proposals to send some asylum seekers to Rwanda.
12pm. Weekly UK Covid-19 infection survey, from the Office for National Statistics.
3pm. Cop26 president Alok Sharma to speak at the Wilson Centre in Washington.
Denial of responsibility!
News Leaflets is an automatic aggregator of the all world's media. In each content, the hyperlink to the primary source is specified. All trademarks belong to their rightful owners, all materials to their authors. If you are the owner of the content and do not want us to publish your materials, please contact us by email –
[email protected]
. The content will be deleted within 24 hours.